What a Biden presidency might mean for fire and EMS funding
Looking to history – and a friendship between key players – to determine if increased funding opportunities are on the horizon
---
As a student of history, I believe you can predict how a person is going to function in certain situations based on their past actions. And if that is indeed the case, then fire and EMS agencies may find increased funding opportunities under a Biden presidency.
A review of the Biden vice-presidency
From 2008 to 2016, Joe Biden served as vice president of the United States under President Barack Obama. That team took office with the country in the grips of a severe economic recession. At that time, the U.S. economy was shedding 170,000 jobs per month. By the end of October 2009, the unemployment rate stood at 10%.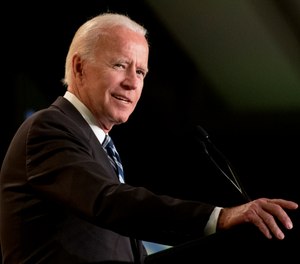 This sounds remarkably like the situation that President-elect Biden will face when he takes office in January.
In 2008, the Obama-Biden administration looked to stimulate the American economy through several economic initiatives. Among those was an initiative to invest in infrastructure programs that would create employment opportunities. The American Recovery and Reinvestment Act of 2009 (Recovery Act) appropriated to FEMA $210 million for competitive firefighter assistance grants for "modifying, upgrading, or constructing nonfederal fire stations." This was the only point in the 20-year history of the Assistance to Firefighters Grants (AFG) program where funding was allocated for construction programs.
Also, in 2009, with the economic turndown adversely affecting budgets of local governments, concerns arose that modifications to the Staffing for Adequate Fire and Emergency Response (SAFER) statute may be necessary to enable fire departments to more effectively participate in the program. The Recovery Act of 2009 included a provision that waived the matching requirements for SAFER grants awarded in FY2009 and FY2010.
Subsequently, the FY2009 Supplemental Appropriations Act included a provision giving the secretary of homeland security authority to waive certain limitations and restrictions in the SAFER statute. For grants awarded in FY2009 and FY2010, waivers permitted grantees to use SAFER funds to rehire laid-off firefighters and fill positions eliminated through attrition, allow grants to extend longer than the five-year duration, and permit the amount of funding per position at levels exceeding the limit of $100,000.
In addition, the 2009 AFG program was funded at $565 million, which was the highest amount ever during its 20-year history.
Could history repeat itself?
When Biden takes office in early 2021, there will be an eerie similarity to the day he took office as vice president. The nation has been in an economic recession through the final three quarters of 2020. Municipal governments are already cutting budgets for fire and EMS departments for 2021 due to decreased revenues caused by COVID-19 closures. The major difference is the political atmosphere in the country has become so polarized that one wonders if a consensus can be reached to address these crises.
The major players shaping the debate over increased funding and the development of economic initiatives will be President Biden and Senate Majority Leader Mitch McConnell. Even though the two are from different political parties, they have shared years of friendship and admiration for each other.
"You've been a real friend, you've been a trusted partner, and it's been an honor to serve with you," McConnell told Biden from the Senate floor on Dec. 7, 2016, as the latter was serving his final weeks as vice president. "We're all going to miss you."
McConnell and Biden worked together during then-President Obama's tenure to bridge the divide between the Democrat-controlled White House and the congressional Republican leadership. 
For example, in 2010, after Republicans took control of the House of Representatives in the midterm elections, the two reached an agreement to extend George W. Bush-era tax cuts for an additional two years until after the 2012 elections.
Following this deal, McConnell invited Biden to the University of Louisville's McConnell Center, where then Vice President Biden said: "You want to see whether a Republican and Democrat really like each other. Well, I'm here to tell you we do."
Then in 2015, McConnell renamed a portion of a medical research bill after Biden's son Beau, who died that year due to brain cancer. McConnell was the only Senate Republican to travel to Wilmington, Delaware, for Beau Biden's funeral.
In his book "The Long Game: A Memoir," McConnell stated that trying to deal with then-President Obama was impossible. "[Obama] acted like a professor every time we tried to discuss legislation. The first 45 minutes was always a lecture about how and why we were wrong," McConnell wrote. On the other hand, McConnell loved dealing with Biden. "Joe would come into a meeting and say, this is what I need, and this is what I understand that you need. Is there any way to work out a deal here?"
If history is any indication of future actions then maybe, just maybe, the political gridlock that has hampered our country will finally be over, and government will move forward with addressing the critical needs of fire and EMS departments.
Editor's note: What do you think a Biden presidency will mean for fire and EMS funding? Share in the comments below.