2 men charged in blaze that killed Philadelphia firefighter
A three-story building collapsed, killing Lt. Sean Williamson, a 27-year-fire department veteran
---
By Jeremy Roebuck
The Philadelphia Inquirer
PHILADELPHIA — Two more men are facing federal charges in connection with the June conflagration at a Fairhill pizza shop that resulted in the death of Philadelphia fire Lt. Sean Williamson, federal authorities announced Tuesday.
Prosecutors said one of the men — Isaam Jaghama, 29, of Philadelphia — was caught on security cameras helping a friend — the building's owner Al-Ashraf Khalil, 29, of Philadelphia, who had already been charged in the case — in setting the blaze that destroyed Star Pizza, Fish and Chicken on the 300 block of West Indiana Street.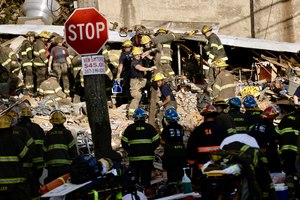 Authorities did not identify the second man now facing charges as his case remains under court seal.
Williamson, 51, died after the three-story building collapsed on him and five other firefighters who were inspecting the damage. His body was uncovered in the rubble after an hours-long search.
According to charging documents, Khalil planned the fire weeks in advance along with Jaghama and others in hopes of collecting a payout on his nearly $500,000 fire insurance policy on the building.
Using surveillance footage, investigators with the U.S. Bureau of Alcohol, Tobacco, Firearms and Explosives identified two men entering the pizza building through a basement door shortly before smoke began billowing out of the building around 1:30 a.m. on June 18.
Prosecutors now say those men were Khalil and Jaghama, who fled the scene shortly after with the assistance of an acquaintance.
Khalil returned moments later in a car driven by the third man who has since been charged but whose name prosecutors have not yet released. The collapse that killed Williamson, a 27-year-veteran of the Philadelphia Fire Department, occurred while both suspects were on the scene.
Khalil filed a claim with his insurance company that same afternoon and initially told investigators he'd been at home in Northeast Philadelphia when he learned of the blaze from a tenant in one of the apartments he leased out above the pizza shop.
But footage later obtained from nearby security cameras showed him and Jaghama leaving the burning building during the time Khalil said he was at home.
He was arrested days afterward at John F. Kennedy International Airport in New York after what prosecutors have described as an attempt to flee to Jordan to escape prosecution.
He has remained in custody since then. His lawyers, however, insist he had nothing to do with the crime.
"Mr. Khalil had no role in starting the fire of this property and is in awe of the courage of the firemen involved and especially the sacrifice of Lt. Sean Williamson," defense lawyer R. Emmet Madden said. "He gives his condolences to the lieutenant and his family during this difficult time. He has and will continue assisting fully in this ongoing investigation."
The exact nature of the relationship between Khalil, Jaghama and the third man charged remains unclear, as does whether the cooperation Madden described led to the newly filed charges.
According to court records, ATF agents arrested Jaghama on Monday in Philadelphia. His lawyer, federal public defender Elizabeth A. Toplin, did not immediately return a request for comment Wednesday.
Like Khalil, Jaghama faces counts of conspiracy and arson punishable by a mandatory minimum sentence of 17 years and up to life in prison.
Khalil faces an additional count of lying to federal investigators that is punishable by up to five years in prison.
___
(c)2023 The Philadelphia Inquirer
Visit The Philadelphia Inquirer at www.inquirer.com
Distributed by Tribune Content Agency, LLC.
McClatchy-Tribune News Service