LODD: Fla. FF dies during 'difficult and prolonged extrication' efforts at crash scene
Jacksonville Engineer Michael Freeland's family said he was a "proud firefighter and loved saving lives"
Duty Death: Michael K. Freeland - [Jacksonville, Florida]
End of Service: 11/11/2021
---
Dan Scanlan
The Florida Times-Union
JACKSONVILLE, Fla. — A firefighter died early Thursday during what was called a "difficult and prolonged extrication" at a vehicle crash site, according to the Jacksonville Fire and Rescue Department.
Identified as Engineer Michael Freeland on a number of social media posts by family, friends and firefighters union President Randy Wyse, he is the first fire department death in the line of duty at an incident scene in many years.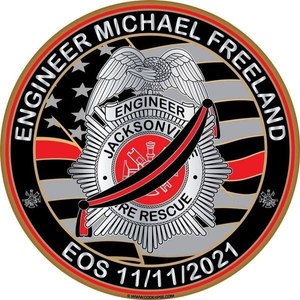 "He was a proud firefighter and loved saving lives," a family member wrote on Facebook. "Thank you to his JFRD family that were on the scene and those who helped my family at the hospital this morning. He is our hero."
The crash, which occurred just after 12:30 a.m. on Aviation Avenue at Cecil Airport, involved a U-Haul truck, news partner First Coast News said. Fire officials haven't released much information on the Thursday incident but issued a 7 a.m. alert announcing the death.
"It is with great sadness that we announce the passing of a JFRD firefighter who was working at the scene of a motor vehicle accident involving a difficult and prolonged extrication this morning at 1 a.m.," Capt. Eric Prosswimmer's message states. "Lifesaving efforts by JFRD personnel and UF Health hospital staff were unsuccessful and he was pronounced dead at 2:12 a.m."
The Jacksonville Sheriff's Office lists the post-midnight crash at Aviation Avenue and Lake Newman Street on its Calls for Service website. That is near the Flightstar complex and less than a mile south of the airport entrance on 103rd Street. It is also just down the street from Jacksonville Fire and Rescue Station 73 at 5845 Aviation Ave., which opened just a few years ago.
First Coast News reports that a U-Haul truck crashed at the site, an image showing its front end crushed, with a large hole in its cargo box behind the cab. No information on the condition of the driver of that truck was available, First Coast News reported.
The JEA confirmed that a crew was sent out to replace the power pole, which was downed in the crash.
The fire department has scheduled a 5 p.m. news conference to provide more details as Wyse posted an End of Service image for Freeland on Facebook, a red and black sash slung over a fire engineer's badge.
This was not the first fire department line-of-duty death this year, following on-duty COVID-19 illnesses that also resulted in the deaths of police in the region in the past year and a half.
Fire Capt. Thomas Barber, 51 and a 21-year veteran, died in June, a spokesman said. Barber's cause of death was not released. The COVID-19 virus was the cause of death for 17-year Jacksonville Fire and Rescue Department veteran Lt. Mario Moya, 51, who died Aug. 17. He was the first in the agency to succumb to the COVID-19 virus in the line of duty, officials said.
Other first responders lost during the pandemic included Jacksonville Beach police Sgt. Daniel "Dan" Eugene Watts, 49, as well as retired Neptune Beach Officer Eddie Bounds and Clay County Deputy Clint Seagle in August. Clay County's Sheriff's Office Sgt. Eric Twisdale, 49, died Sept. 16. St. Johns County Deputy Jody Hull, a four-year member of the Sheriff's Office, died on Aug. 21.
Other local law enforcement deaths in the past year include Jacksonville Sheriff's Office Lt. Chris Cunningham, 48; Jacksonville Sheriff's Office auxiliary Sgt. Louis "Lou" Livatino, 71; and Nassau County Deputy Bailiff Jack Gwynes, 61.
Jacksonville fire officials asked the public to the privacy of his family "during this extremely difficult time."
©2021 www.jacksonville.com. Visit jacksonville.com. Distributed by Tribune Content Agency, LLC.
McClatchy-Tribune News Service