5 Indianapolis FFs injured falling through floor of vacant residence
The firefighters were quickly transported to the hospital, with one firefighter listed as in "serious condition"
---
Lawrence Andrea
The Indianapolis Star
INDIANAPOLIS — Five firefighters were injured after they fell through the floor of a vacant home while battling a fire they say was intentionally set on the east side of Indianapolis Monday night.
All five firefighters were taken to the hospital with non-life threatening injuries, the Indianapolis Fire Department said. Fire investigators later ruled the incident arson.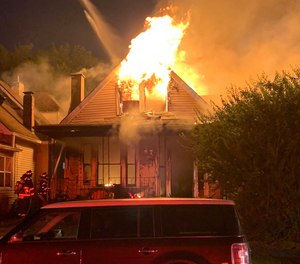 The blaze began at a vacant, two-story residence in the 1700 block of Fletcher Avenue near Fountain Square shortly after 9 p.m., according to IFD Battalion Chief Rita Reith. Seventeen IFD units were dispatched to the scene, and fire was showing from all sides of the unoccupied home.
Shortly after arriving, firefighters began an "aggressive attack" on the fire to prevent it from spreading to nearby homes. Those neighboring homes were soon after reported all clear, Reith said in a release.
At 9:35 p.m., a mayday was issued after five firefighters fell through the second floor of the home, dropping about 10 feet to the first floor, according to Reith. They landed near the front door of the structure and were quickly accounted for.
One firefighter was taken to Methodist hospital in serious condition, Reith initially said, but was "alert and oriented" and sustained non-life threatening injuries. Four other firefighters were taken to the hospital "as a precaution" in good condition.
Officials Tuesday morning said all the firefighters had been released from the hospital and were recovering at home.
"After thorough testing, none of the firefighters were found to have sustained serious injury however several sustained minor injuries," Reith said in an email. "They are all expected to make a full recovery."
Two residents living in a house adjacent the blaze were displaced due to utility shut off and damage to the exterior of the home. The Red Cross is assisting them.
Reith said the fire was the second at the vacant structure in just over a month. The first fire reportedly occurred July 6.
Authorities Tuesday morning indicated an incendiary was used to start the fire but did not specify what sparked the flames.
Police ask anyone with information about this incident to call Crime Stoppers of Central Indiana at 317-262-8477 or (TIPS).
---
©2021 www.indystar.com
McClatchy-Tribune News Service