Mayday: 3 Ala. firefighters trapped, hurt when porch collapses during duplex fire
Crewmembers "got them out pretty quick," Birmingham Battalion Chief Jackie Hicks said
---
By Carol Robinson
al.com
BIRMINGHAM, Ala. — Three firefighters were injured - one of them seriously - while battling a blaze in Birmingham Thursday night.
Birmingham Fire and Rescue Service responded shortly before 10 p.m. to a structure fire in the 1200 block of Rev. Abraham Woods Jr. Boulevard. Battalion Chief Jackie Hicks said that location is a duplex that appeared to be vacant at the time the fire broke out.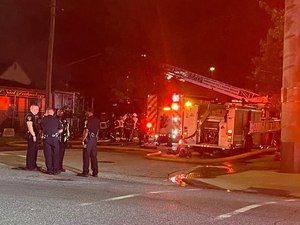 There was a substantial amount of fire coming from the duplex when firefighters arrived. Crews quickly made entry and tried to know down the fire from inside.
"Conditions worsened a little bit so crews started to back out,'' Hicks said. "Unfortunately on the way out of the fire, the porch gave so we had three firefighters that were trapped up under some debris."
A Mayday call went out - which is used only when a firefighter is trapped, injured or missing.
"They got them out pretty quick, a couple of minutes maybe,'' Hicks said. "Crews were right there with them so once they saw them go down, they acted quickly to get them out."
Two of the firefighters sustained minor injures while the third suffered serious injures. Hicks said all three were taken to UAB Hospital but are expected to be OK.
As of 11:30 p.m., firefighters were still working to put out hotspots. Hicks said they would do a thorough search to make sure no one was inside.
Just six days ago, another Birmingham firefighter was injured at an apartment blaze in east Birmingham. The erupted about 9:30 p.m. Friday, April 21, at 1417 Montclair Road. That is the large, two-story complex across the street from Fair Haven Nursing Home.
That firefighter remains hospitalized at UAB but is also expected to make a full recovery. "We're still praying for him,'' Hicks said.
©2023 Advance Local Media LLC.
Visit al.com.
Distributed by Tribune Content Agency, LLC.
McClatchy-Tribune News Service