Mayday call at house fire after naked woman refuses rescue
A firefighter became temporarily trapped trying to retrieve the woman after she reentered the home against commands
---
Shelley Terry
Star Beacon, Ashtabula, Ohio
ASHTABULA, Ohio — Firefighters rescued a woman from her burning home under an unusual circumstance.
Neighbors saw her through a window and believed she was just absorbed in a TV program and didn't know her home was on fire. But when firefighters arrived, the woman stood by the back door without any clothes on and refused to come out.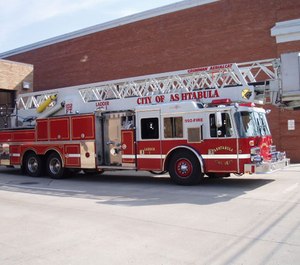 The Friday night blaze was reported at 10:18 p.m. by neighbors of the two-story, wood-frame home in the 800 block of West 49th Street, according to the Ashtabula Fire Department report.
When firefighters arrived on the scene minutes later, they saw light gray, brown-colored smoke coming from the rear of the home, according to the fire report.
Firefighters prepared for a search-and-rescue mission, the report said.
As one of the firefighters walked toward the rear of the house, he found a nude woman standing at the backdoor. He told her to exit the building. The woman disobeyed the firefighter's command, and instead, went back inside the house, the report said.
At that time, it seemed the fire was contained to the kitchen floor and stove, so the firefighter put on a mask and entered the house to retrieve the woman.
During this time, the flames quickly spread to the kitchen ceiling, trapping the firefighter at the landing at the top of the basement stairs. Heat and fire forced him into the basement. At this time, he initiated a mayday distress call while his fellow firefighters fought to extinguish the blaze so he could get out, the report said.
The firefighter managed to escape through a basement door and the mayday call was canceled, according to the report.
Firefighters then moved with the water hose to the front of the home, force-opened the front door, searched the first floor and discovered the naked woman sitting in a chair. Despite the smoke and fire, firefighters had to drag her out of the house, the report said.
Emergency medical personnel met firefighters at the door and transported the woman to Ashtabula County Medical Center. Firefighters suspect drugs or alcohol contributed to her behavior.
All floors of the house were cleared of any additional persons or animals. The fire was extinguished and fans were set up for ventilation.
Firefighters were on the scene for about two hours.
The home did have smoke detectors and no number has been set on the cost of the damage.
The cause of the fire is under investigation.
———
©2020 the Star Beacon (Ashtabula, Ohio)
McClatchy-Tribune News Service