IAFC-VCOS releases Yellow Ribbon Report update on behavioral wellness
The updated resource includes additional information on gaslighting, emotional intelligence, compassion fatigue, resilience and more
---
By Janelle Foskett
CHANTILLY, Va. — The IAFC's Volunteer and Combination Officers Section (VCOS) has released an update to its Yellow Ribbon Report, "Best Practices in Behavioral Wellness for Emergency Responders."
The original report was released in 2017, and this draft includes several updates: a new set of 11 best practices, an emotional tactical worksheet, survey results on behavioral wellness, and key resources.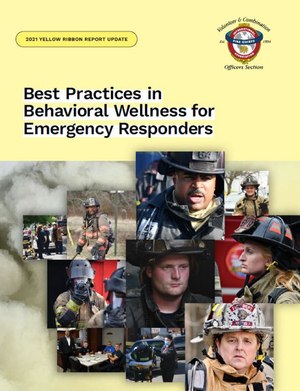 The IAFC press release encourages all fire departments and other responder agencies to share this resource with departmental leadership, including peer support teams, chaplains and employee assistance program (EAP) representatives.
VCOS Educational Coordinator Chief John M. Buckman III, who also serves on the FireRescue1 editorial advisory board, noted that staff development is often one of those "other duties as assigned" expectations that leaders must focus on, and the Yellow Ribbon Report update gives leaders a resource to help: "The update provides public safety personnel with additional information on recognizing signs and symptoms of post-traumatic stress. The report's contributors recognize that behavioral wellness is a very extensive issue that many fire departments feel overwhelmed by. The contributors hope that you use this report to assist your public safety personnel in managing the traumatic stresses they are confronting every day."
VCOS Chair Chief Chuck Flynn added that the resource can help assist first responders in executing an "internal size-up" and offered tips for how to absorb the information: "Read and use the report by breaking it down into smaller pieces and focusing on a few areas at a time. Identify some short- and long-term actions you can take to improve behavioral wellness."
The 2021 Yellow Ribbon Report Update can be viewed and downloaded here.