Cleveland firefighters demand chief be removed
The firefighters say Chief Angelo Calvillo violated the city's charter, which bars civil-service employees from political activity, and should be fired
---
By Eric Heisig
The Plain Dealer, Cleveland
CLEVELAND — Firefighters for the city of Cleveland on Wednesday demanded that Chief Angelo Calvillo be removed from his job and criminally charged for campaigning for Mayor Frank Jackson's re-election bid in 2017.
The firefighters say Calvillo violated the city's charter, which bars civil-service employees from political activity. The charter prohibits civil-service employees from circulating and obtaining petition signatures for an election or candidate for public office, according to a news release from the law firm Diemert & Associates and the International Association of Firefighters Local 93.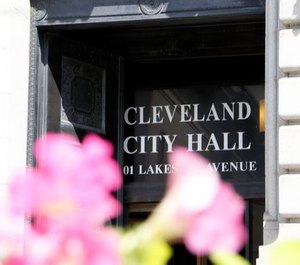 Certified copies of nominating petitions for Jackson's campaign for his fourth term showed Calvillo worked on behalf of the mayor in February and March 2017. Calvillo also admitted in a deposition for a separate matter that he solicited signatures for Jackson.
Complaints have been filed with the Cleveland Civil Service Commission, law director and prosecutor. The charter demands "immediate forfeiture of office and employment," and a misdemeanor conviction for anybody who violates that provision.
"To allow such a person to continue serving in the top position of our Department would be a travesty of justice and further erode the respect from the men and women who put their lives on the line daily for the protection of our citizens and their property," Fran Lally, the firefighters union's president, said.
Joe Diemert, an attorney for the firefighters' union, said he met last week with Safety Director Michael McGrath and a city lawyer, who does not consider Calvillo's actions to have violated civil service or city rules.
A city spokesman did not immediately respond to a phone call Wednesday night.
———
©2019 The Plain Dealer, Cleveland
McClatchy-Tribune News Service