Firefighters discover triple homicide in burning Fla. home
All three victims suffered what officials described as upper body trauma that led to "non-fire related fatalities," according to Hillsborough County Fire Rescue
---
By Anastasia Dawson and Tony Merrero
Tampa Bay Times
TAMPA, Fla. — Three murder victims were found by firefighters inside a burning home near the Palm River-Clair Mel area on Thursday, according to the Hillsborough County Sheriff's Office.
They were identified Friday as Haley Stone, 20, Xavier Greene, 28, and Derek Archie, who would have turned 32 on Monday, according to the Medical Examiner's Office.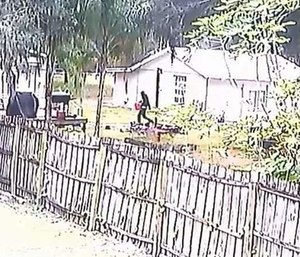 All three suffered what officials described as upper body trauma that led to "non-fire related fatalities," according to Hillsborough County Fire Rescue. The Sheriff's Office said foul play is suspected in their deaths.
A 911 call was made at about 3 p.m. Thursday, reporting a fire at the home at 6221 16th Ave. S. Firefighters quickly extenguished the blaze and found the three bodies.
Deputies released surveillance footage captured by the home's private security cameras just before the 911 call. The video shows a man approaching the home with a gas canister before driving away in a silver four-door sedan with a sunroof that deputies said resembles a 2008 Infiniti M35.
Detectives, forensics technicians and a medical examiner's investigator worked the crime scene Friday morning. Tucked behind trees at the end of a dirt driveway, the home that burned is not visible from the road. Hillsborough County Fire Rescue released photos showing a burned house with melted, cream-colored siding peeling off the walls like taffy.
Darrol Horton was there too, waiting for authorities to release the names of those found inside. Deputies contacted him Thursday to let him know about the fire at his property, which he said he rents to friends.
"I haven't been able to contact them so I'm fearing for the worst," he said.
Anyone with information about the man being sought or this incident was asked to call the Hillsborough County Sheriff's Office at (813) 247-8200. To be eligible for a $3,000 reward, contact Crime Crime Stoppers at 1-800-873-8477 or send an anonymous tip online using www.crimestopperstb.com, or send a tip with a smartphone using the P3 Tips Mobile application.
Copyright 2018 Tampa Bay Times
McClatchy-Tribune News Service