Chief Dennis Compton to retire as chairman of the National Fallen Firefighters Foundation
Compton served as NFFF chairman for 11 years, now turning over role to Troy Markel
---
By FireRescue1 Staff 
EMMITSBURG, Md. — Chief Dennis "Denny" Compton announced that he is stepping down from his role as chairman of the Board of Directors for the National Fallen Firefighters Foundation (NFFF), effective Aug. 18, 2019.
According to the NFFF, Chief Compton has been a member of the NFFF Board of Directors for over 14 years, serving as chairman for over 11 of those years. The NFFF notes that under Compton's tenure, there has been significant growth in programs for families and a deeper involvement in the reduction of firefighter line-of-duty-deaths.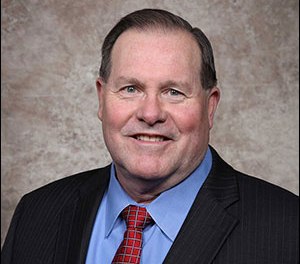 "I have depended on Denny's counsel and friendship in leading this organization for over a decade," said Chief Ron Siarnicki, NFFF executive director. "Though he is leaving the organization, the legacy he leaves will have a longstanding impact on the organization for generations." 
Troy Markel will replace Compton as chairman of the Board of Directors. Markel joined the NFFF as an Advisory Committee member in 2006 and later became a board member in 2012. Markel is the president of VFIS, a subsidiary of Glatfelter Insurance Group in York, Pennsylvania. 
"I couldn't be more pleased to pass my leadership responsibilities along to such a capable and dedicated member of the board," Compton said. "As a cherished member of the fire service and a talented executive, Troy has a proven record of commitment to the Foundation and service to America's Fallen Firefighters and their families."