1 live-fire training incident, 4 viewpoints
Differing Near Miss reports show the value in after-action reviews to consolidate experiences and solidify lessons learned
---
The FireRescue1 Academy features "Response Priorities and Actions," a one-hour accredited course for firefighters. Complete the course to learn more about two high hazard situations that present serious safety issues to firefighters: civil disturbances and highway incidents. Visit FireRescue1 Academy to learn more and to schedule an online demo.
By Andrew Beck
One of the common complaints that a company officer or training officer receives is, "I wish training were more realistic!" Comments like this challenge these officers to balance accurately preparing firefighters to go to battle with following department and national firefighter safety standards.
Live fire training can be one of (if not the most) valuable firefighter training opportunities. Getting the opportunity to integrate and apply nozzle techniques, hose handling, initial search and thermal imaging skills – while reinforcing PPE usage and observing fire behavior – is invaluable for both probies and veterans.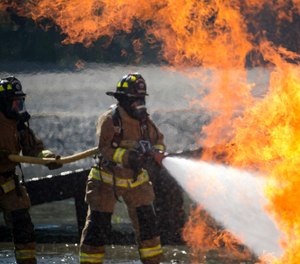 This realism comes at a potential cost, however. Live fire training can be one of the most dangerous environments in which we find ourselves. Most firefighter training environments just simulate the real thing. Devices such as roof props close to the ground, window bailout props with safety lines and SCBA confidence mazes that can be quickly opened allow us to practice skills and experience the setting, without being in an actual fire.
That all changes when you enter a burn building. Even the most technologically advanced gas-fired structures still presents an IDLH environment until it is shut down and vented. Burning in a larger class A type building or acquired structure means you are even further from safety if something goes wrong. Safety codes such as NFPA 1403 have been developed to provide a standard method for live fire training that tries to provide for the highest level of safety.
When we conduct these types of training, sometimes unexpected things can happen. Making sure we examine what went wrong and right in a firefighter training exercise is essential to prevent future mistakes and get better at our jobs. We need to always focus on improvement, rather than just assuming that all is well that ends well. You don't want to be accidentally successful.
Determining accountability after a live-fire exercise goes wrong
Sometimes, the National Firefighter Near Miss Reporting System obtains multiple reports from different viewpoints of a single incident. It's a good reminder that we all see different sides of every event, and take home different conclusions. If everyone shares their side of the story, it can clear up any misconceptions, and make sure we all learn as much as we can from the event.
In this instance, live-fire training was conducted in a burn building for newly hired firefighters. After entering, one of the new firefighters realized his regulator wasn't seated to his mask. A member of the department submitted the initial report:
"During a live-fire drill, one of the new firefighters had his mask mounted regulator come loose from his facepiece while in the burn chamber. He felt the heat and smelled smoke when he realized his regulator had dislodged. He took one small breath and immediately exited the burn building. The firefighter had no symptoms or complaints of inhalation injury. He was re-evaluated before participating in another drill. He was without injury. After an investigation, it was realized that he had not fully connected his mask mounted regulator.
The regulator is a push to connect style and must be securely fastened. This is not the first time a firefighter has falsely believed his or her regulator was connected. It is recommended that the regulator is tugged on after connecting to ensure it is attached correctly. We did additional training with all personnel after the incident and ensured mask mounted regulators were checked by instructors before entering the burn chamber."
Here is the new firefighter's viewpoint of the same incident:
"During a live fire training exercise, my crew was assigned interior fire attack. Upon forcing the door, my partner and I did a quick buddy check and then proceeded to click in on air and enter the structure. We got to the door just outside the fire room and made entry. Conditions were moderate smoke, heat and visibility. As the instructor was educating my partner and me, I realized that I could smell smoke and then my face was getting warmer. At that time I was confused but knew I shouldn't be smelling smoke, and then I heard my regulator purging out air. I then informed my team that we had to get out and I covered the regulator slot of my mask with my hand and exited the structure. After the incident, I was OK but was informed that you really have to push the regulator and tug on it after because it has a tendency to fall out sometimes if it is not pushed in all the way. This experience really opened my eyes to air emergencies inside a fire and not to overlook checking your gear and equipment thoroughly before entering structures."
His officer had yet another viewpoint, and it even involved an apparent equipment malfunction:
"During a live burn training, a firefighter had a regulator malfunction. The firefighter that experienced the failure had just been hired and was in his second week of his new hire academy. As myself and the firefighter entered the burn room, he led with the nozzle and I was behind him. As we began to discuss fire behavior and the light smoke conditions we were observing, I heard an air leak coming from his mask. Immediately following, the firefighter turned and went for the exit, stating his regulator had popped off. I radioed to our safety officer outside what had happened and that we were exiting the building. Upon exiting, we ensured that the firefighter was OK. After inspecting the regulator, we found that one of the two clips that secured the regulator to the mask was broken. The complete pack was taken out-of-service and sent for repair. Training continued without further incident."
In this final report, we hear from the IC/safety officer. His report focused on the difficulty of determining accountability, something that can always be difficult in an emergency:
"During a live fire training event, I was operating as IC/safety for a live fire training. During the training evolution, we had an SCBA problem with a crew member. The fire attack crew entered the building and all members were on air. As the crew made their way to the fire room door the regulator became disconnected from the firefighter's mask. He told his company officer of the problem and then exited the building. The company officer reported the problem over the radio and exited the building with his crew. With multiple personnel in the area of the exit, it was initially difficult to identify who was operating in what capacity. It took a few seconds to get all members with their crews for accountability. After accountability was completed and it was determined that there were no medical problems there was a safety briefing with all instructors and with all crew members. After the briefing, the drill was continued.
Ensure regulators are fully secured to the face mask.
In the event of an emergency, have a plan to have all non-essential people move to an area for accountability."
These reports were all from the same incident but contained very different viewpoints and lessons learned. When we conduct training events that have a higher level of risk, performing a quick after-action review can be beneficial to make sure we capture lessons learned. Often, if there was an unexpected event, people may feel like they know what went wrong. However, after hearing about the incident from the perspective of the other participants, they will have a better idea of what went wrong and will be better prepared to prevent that problem in the future.
Keep training in realistic environments, and keep sharing stories to learn from those trainings and each other, so we can all become better, more resilient firefighters.
About the author
Andrew Beck has been a member of the program staff for the IAFC's National Near Miss Program since 2015 as an instructor, reviewer and subject matter expert. Andrew started his fire service career in 2002 with the U.S. Fish and Wildlife Service, working in wildland fire operations. He then worked in wildland fire for the U.S. Forest Service from 2003-2006, when he transitioned to structural fire with the Mandan City Fire Department in Mandan, North Dakota. He is currently the training officer managing department training programs and live burn operations. Andrew teaches thermal imaging at various regional fire schools and is a live fire instructor for the state firefighter's association. He lives in Mandan with his wife Ashleigh and their four kids.