Detroit first responders fundraise for 2 girls whose mother died from overdose
Fire and EMS personnel collected gift cards and Christmas presents for the family, and are helping them move into a new house
---
By News Staff
DETROIT — First responders in Detroit are offering support and collecting donations for two young girls whose mother died from an overdose.
Fire and EMS personnel responded to the scene of one woman and three men who were all unresponsive last week after the two girls, 8-year-old Lavaeha Edwards and 10-year-old Kissiah Edwards, called 911, according to FOX 2.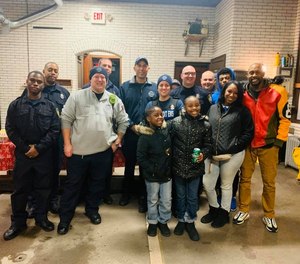 "It was a tough scene and it hit home for a lot of us," Detroit Fire Department Lt. Jeff Gaglio said. "A lot of us have young kids at home and for these two girls to go through something like this is pretty devastating."
After the girls' mother died, the first responders were compelled to help them, and their father, recover from the loss.
Gaglio contacted Detroit Public Safety Foundation Executive Director Patti Kukula, saying the girls were in need of clothes and other resources after moving in with their father, as they couldn't go back to their mother's home.
Kukula put out a request to the community, and within days, donations including gift cards, Christmas presents, furniture and appliances were collected for the family.
A real estate agent also offered the family affordable rent for a four-bedroom house to move into from their current two-bedroom living space.
The father, Cameron Edwards, called the support they have received a "blessing."
Kukula said the first responders have treated the girls like members of their own family.
"They see things you and I never want to see, and they are compassionate people – it takes a calling to be a public safety person," she said. "They come to us and say there is a great need out there and we try to fulfill that the best we can."