FDNY firefighter accused of hitting motorist in parking space fight
Firefighter Gilberto Martinez, 34, is facing misdemeanor assault, weapons possession and harassment charges for allegedly punching a man
---
Thomas Tracy
New York Daily News
NEW YORK — An off-duty FDNY firefighter who was honored for heroism earlier this week found himself under arrest early Saturday for allegedly hitting a man over a parking space in Queens, officials said.
Firefighter Gilberto Martinez, 34, is facing misdemeanor assault, weapons possession and harassment charges for allegedly punching a man during a 1 a.m. clash on 76th Road near Queens Blvd. in Forest Hills.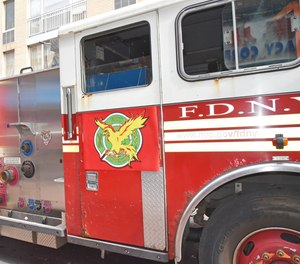 Police said that as the two men argued, Martinez got out of his car and punched the other motorist in the face, then whipped out a collapsible metal baton and threatened to hit him with it.
It was quite a different scene at City Hall on Wednesday, where Martinez received the FDNY's Thomas E. Crimmins Medal for pulling two people from a burning home in Queens Village in April 2018. As the fire raged, Martinez and Firefighter John Basquez used a portable ladder to get to a second floor bathroom window. Once inside the burning apartment they found the two victims.
Martinez received a desk appearance for the attack and will answer the charges in court at a later date, officials said.
An FDNY spokesman said Saturday that once the details of the arrest had been reviewed Martinez could face suspension.
———
©2019 New York Daily News
McClatchy-Tribune News Service