Ill. first responders compete in Salvation Army's 'Gurneys, Guns and Hoses' contest
Competing fire, EMS and police agencies aim to collect the most donations in the holiday bell-ringing campaign
---
Jeff Smudde
Herald & Review, Decatur, Ill.
DECATUR, Ill. — Macon County Sheriff's Deputy Patrick Smith and Lt. J.R. Auton stood at the south entrance of Walmart North on Friday ringing Salvation Army bells.
The duo were collecting money at the North Prospect Street store for the organization's Red Kettle campaign.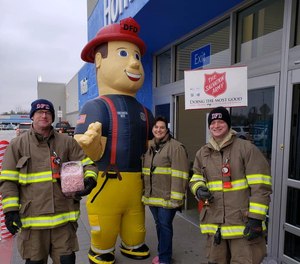 "The whole department volunteers," Smith said. "We all try to come out here and give our time."
Although they are helping a good cause, Smith and Auton have an ulterior motive to their bell ringing: winning the Salvation Army's Gurneys, Guns and Hoses competition.
For several years, five groups of local first responders situate themselves at the doors of Walmart North, Walmart East and Sam's Club. Volunteers will be collecting again today.
The competition pits the Decatur Fire Department, Decatur Police Department, Decatur Ambulance Service, Macon County Sheriff's Office and county fire departments against each other to see which group raises the most money. Decatur firefighters have emerged on top for three years in a row.
"It's one big fire department rolled into one," said Argenta-Oreana Fire Department firefighter Stephen Pringle, speaking of the county departments. "But it's a friendly competition for bragging rights."
Retired Decatur Fire Capt. Gary Workman took his place at Walmart East on Maryland Street. "I enjoy this," he said. "And I get to hang with these guys."
The firefighters believe Friday's warmer weather may help with the total donations. "They're not running inside as fast as they would if it was cold," Lt. Mike Rosenbery said about the customers.
The first Guns and Hoses competition among police officers and firefighters began in 2011. EMTs were added two years ago.
The Salvation Army has been able to collect $15,000 to $20,000 in the past few years during the first responders Red Kettle collection.
"It is a weekend that truly adds to making that goal and helping others in the community," said Kyle Karsten, Salvation Army director of development.
Karsten said it is the most financially substantial weekend toward meeting this year's goal of $485,000.
A matching gift of $25,000 has been promised for whatever the first responders collect. "This could be a $50,000 weekend," Karsten said. "It is a good chunk for the goal."
Each of the five groups will bring in its own total amount. "But the true win is how much they earn collectively," Karsten said.
Smith and Auton had various techniques for getting people to drop money in the kettle. "We have the Christmas music," Auton said.
"And we have our personalities, of course," Smith added.
The presence of law enforcement may be a draw as well. Walmart shopper Bill King, 65, dropped money in the sheriffs' kettle. "It's for a good cause, but I don't know about these sheriffs," he said joking with Smith and Auton.
Competing at the north end of the store was Kimberly Chervinko, senior crime analyst with the Decatur Police Department. Although she was collecting money without a partner, she said she was fine working solo.
Like many volunteers, Chervinko needed little to encourage shoppers to donate to the annual Red Kettle campaign. "I'm doing all right," she said. "I just wish everyone a very merry Christmas."
Paramedics Jennifer Sharp and Deb Hemer were stationed at the exit door of Sam's Club. They added music as well as large candy canes to their station. "Tomorrow one of the girls is bringing her puppy," Sharp said. "And the kids can ring the bells if they want."
"They are welcome to sing too," Hemer said.
Karsten and other Salvation Army staff meet the groups every two hours when they trade an empty kettle for a full one.
"But it's not heavy because people are putting in dollar bills instead of change," he said. "The community understands how important the Salvation Army is."
———
©2019 the Herald & Review (Decatur, Ill.)
McClatchy-Tribune News Service