Pa. firefighter struck, killed while assisting at crash scene
Lloyd Musick, 49, came across an overturned truck while off duty and stopped to help the victims
---
Volunteer Firefighter Lloyd Musick of Summit Hill, Pennsylvania, was struck and killed Tuesday night after he stopped at the scene of an overturned vehicle on Route 309 in Lynn Township. Musick, 49, was off duty at the time.
According to The Morning Call, Musick and two others stopped to help the victims of a vehicle crash involving an overturned truck. A minivan passing the scene struck all three individuals, killing Musick and seriously injuring another person. 
Times News reports that the seriously injured individual was flown to Lehigh Valley Cedar Crest, and Musick was transported to Lehigh Valley Cedar Crest, where he was later pronounced dead.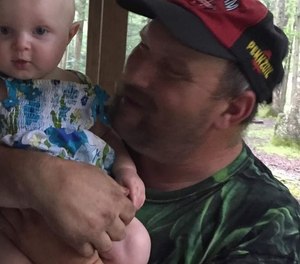 On a GoFundMe page, Musick's daughter, Kaityln, described the events leading to her father's death and said he died a hero.
"He died helping someone he didn't even know. He was a firefighter, a husband, a father, a brother, a friend to anyone who needed one, and a proud pappy. He was such a caring man with a big sense of humor," she wrote, also encouraging people to donate to help give her father the funeral he deserves.
The Morning Call reports that the Lehigh County district attorney's office is involved in the investigation of the incident.