IAFF formally endorses Joe Biden ahead of Pittsburgh rally
The union, one of the nation's largest, represents about 316,000 firefighters in the United States and Canada
---
Bob Bauder
The Tribune-Review
The International Association of Firefighters on Monday became the first major union to endorse Democratic presidential candidate Joe Biden, citing his close ties to firefighters and record of supporting union causes throughout his career.
Harold Schaitberger, the union's general president, said the organization pushed for Biden to run and was awaiting his announcement as a candidate to issue the endorsement.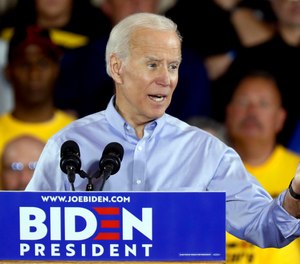 The union, one of the nation's largest, represents about 316,000 firefighters in the United States and Canada.
Schaitberger was in Pittsburgh on Monday for a noon memorial in Market Square for local workers killed on the job and Biden's first public rally since announcing his candidacy four days ago. The former vice president appeared Monday afternoon at Teamsters Local 249 banquet hall in Lawrenceville.
"For us it was real simple: Joe Biden has been with us every step of the way," Schaitberger said during an interview at Pittsburgh IAFF Local 1 headquarters in Hazelwood. "This is someone who respects workers, speaks for them and stands with them."
He said Biden, since being elected to the Senate in 1972, has supported such priorities as guaranteed overtime, death benefits and national collective bargaining rights for firefighters. Biden also has a personal connection to firefighters.
He's credited firefighters with saving the lives of his two sons after a 1972 car crash that killed his wife and 13-month-old daughter and with driving him to the hospital in a snowstorm in 1988 after he suffered cerebral aneurysms.
Political experts say Biden is courting unions and middle-class Americans in an attempt to win the support of voters who backed President Trump. Local labor groups, including the Teamsters, told the Tribune-Review they were awaiting word from their international headquarters before deciding an endorsement.
"Each of us has our own policies and our own metrics," Schaitberger said. "They'll go through their processes and likely make a decision at some point. We just knew where we were going."
———
©2019 The Tribune-Review (Greensburg, Pa.)
McClatchy-Tribune News Service