Man gets prison time for setting blaze that killed Ky. asst. chief
In sentencing Steve Pritchard to 30 years in prison, Judge Greg Stivers said he committed a "dastardly and depraved act" by setting a fire that killed Charles Sparks
---
By Bill Estep
Lexington Herald-Leader
ADAIR COUNTY, Ky. — An Adair County man has been sentenced to 30 years in prison after being convicted of deliberately setting a blaze that resulted in the death of a firefighter.
In sentencing Steve Allen "Boo" Pritchard, U.S. District Judge Greg Stivers said he committed a "dastardly and depraved act," according to a news release from U.S. Attorney Russell M. Coleman.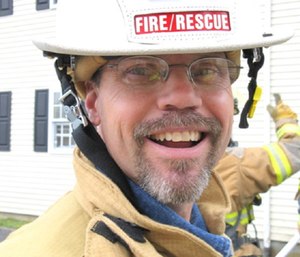 Stivers also ordered Pritchard, 44, to pay $107,975 in restitution, according to a court record.
Brandi Pritchard, who was dating Steve Allen Pritchard when he set fire to their rented house in Columbia, pleaded guilty but has not been sentenced.
The fire happened on June 30, 2011.
Brandi Pritchard had taken out $50,000 in renter's insurance. After Steve Pritchard learned of the policy, he suggested burning the house to collect, according to a court record.
The night of the fire, Steve Pritchard sent Brandi Pritchard's two children and the family dog to stay with friends, set the house ablaze about 3 a.m., and drove her to work in Somerset.
Charles Sparks, 49, was assistant chief of the Columbia Fire Department and responded to help fight the blaze, leaving home without waking his wife and son, Assistant U.S. Attorney David Weiser said in a memorandum.
Sparks had just returned from a vacation in Gatlinburg and told other firefighters about his trip on the way to the blaze.
Sparks, wearing a breathing apparatus and an oxygen tank, climbed a ladder to enter the burning house through a second-story window and fight the blaze, but had a heart attack and collapsed, according to a court document.
Other firefighters got him out of the house and he was flown to a Louisville hospital for treatment, but he never regained consciousness and died a few days later.
After collecting on the insurance policy, Steve and Brandi Pritchard took a vacation to Florida with several relatives, and he paid $4,500 for a truck and $8,000 for a motorcycle, Weiser said in a court document.
Several witnesses said Steve Pritchard "bragged about being a 'genius'" for his role in burning the house and defrauding the insurance company, Weiser said in the memorandum.
Pritchard claimed he was in Louisville making a delivery for his employer when the fire happened but data from his cell phone showed that was not true, according to Coleman.
Prosecutors presented evidence that before the fatal fire, Pritchard had burned two other houses and two cars.
A jury convicted Pritchard of arson that caused a death and mail fraud.
Pritchard will have to serve at least 85 percent of his sentence.
Copyright 2018 Lexington Herald-Leader
McClatchy-Tribune News Service