Quiet Warrior: How one volunteer firefighter joined hundreds from across the country to offer help after Hurricane Harvey
First responders from across the country traveled to the Texas Gulf Coast to help Houston firefighters whose homes were flooded in the storm, including a well-organized group from Wisconsin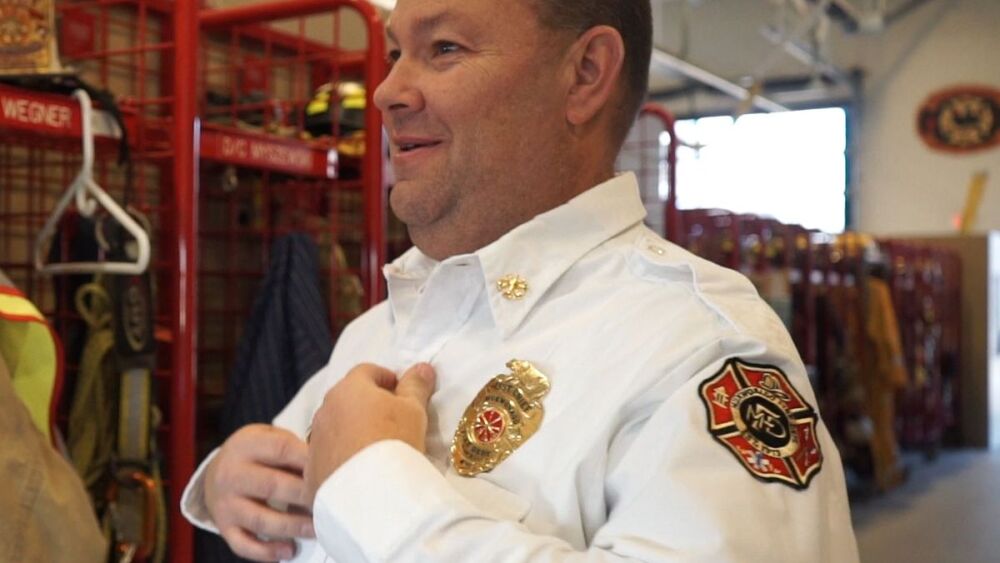 Sponsored by 5.11 Tactical
By Rachel Zoch for FireRescue1 BrandFocus
When the floods after Hurricane Harvey swamped the Houston area, millions watched in horror. Hundreds of people from around the country, including many first responders, traveled to the Texas Gulf Coast to lend a hand after the rains stopped.
Andy Wegner, assistant fire chief in Mukwonago, Wisconsin, was among those who made the journey. He joined a group of 25 first responders from the Waukesha County area for the nearly 1,200-mile trip to Houston on a mission to help firefighters whose homes had been flooded.
Brian Dorrow, a former Waukesha police officer, and David Johnsen, the fire chief in Sussex, organized the group. Dorrow and Johnsen reached out to first responders in their area, just west of Milwaukee, and Wegner and several other active and retired firefighters joined the effort.
Wegner had planned to travel to New Orleans to help after Hurricane Katrina in 2005 but was unable to make the trip. This time he was able to fulfill his calling to serve.
"I'm now at a point in my life where I felt that I had time and abilities that made it easier for me to go," Wegner said. "Plus I thought it was cool that we were going to be helping fellow firefighters."
PREPARING FOR THE JOURNEY
Johnsen, the fire chief, reached out to a friend with the Houston Fire Department, Deputy Chief Alison Stein, to make plans for their time in Texas. Stein worked with her HFD colleagues to find out who needed help cleaning up their houses and made arrangements for the group to bunk on cots at the HFD arson bureau offices.
Many people and organizations came together to make sure the group – which by then had come to be known as "Team Wisconsin" – had what they needed to get the job done, she said, including transportation and meals, as well as free shots for hepatitis and tuberculosis.
"A lot of people donated to feed these folks and take good care of them and show their appreciation for what they were doing for the families of firefighters down here," said Stein.
Wegner and his group collected donations, bought tools and other supplies and chartered a bus. They stuffed an 18-wheeler with everything from food and bottled water to rubber boots to construction supplies, including five full sets of Milwaukee power tools to be donated once they reached Houston.
Wegner also asked neighbors via Facebook to donate key items like dust masks and garbage bags that were scarce in the Houston area at the time. The idea was to arrive 100 percent prepared for the work.
"Their generosity wasn't just with the work and the time, it was also with equipment that they brought down to us so that we could start repairing," said Stein, "not to mention the 18-wheeler they brought down with food and supplies to be donated to the firefighter families as well."
SHORT TRIP, LONG-LASTING IMPACT
Team Wisconsin started for Houston about two weeks after the storm first hit and arrived ready to get to work. They split into two crews and finished gutting two houses the first day, cutting the drywall 6 feet up and hauling everything below that line out to the curb.
"That was the hardest part to see – all that stuff they lost, and really nothing was salvageable," said Wegner. "It was all taken out to the road in wheelbarrows."
The group didn't get back to their bunks and the arson bureau until about 9:30 that night.
"I was so tired that I called my wife lying on my cot, and I fell asleep talking to her," said Wegner.
For three more days, they worked to remove all the drywall and carpeting and flooring from each house to help them dry out. None still had standing water, but Wegner said one house was in such bad shape that the crew had to gear up like they were going into a hazmat situation.
"Some of these houses, as much as we took out of them, you wondered if they were really going to be able to rebuild the house or if they were going to have to end up taking the house down due to the damage," he said.
Wegner said many in the group wished they could have stayed and worked a few more days – but the impact they made in just four days left a lasting impression, said Stein.
"The Wisconsin folks bought a tremendous amount of skill with them," said Stein. "The firefighters who got the Wisconsin group got a first-class operation of demolishing their homes so they could start repairing them quickly. The firefighters that they helped are incredibly grateful. They brought most everyone to tears daily due to their hard work."
Wegner says the group members are excited and eager to plan another trip when help is needed. Neighbors have expressed thanks for representing them in the effort to help, and a local family has pledged funding to support future trips like the one to Houston.
"I hope that I can do it again in the future, not because I want anybody to have a flood or anything like that, but it was a good feeling to be able to help people out," said Wegner. "There are other people that are willing to do this in the future, and I know that with any other storms, be it a tornado or a flood or something, there are the resources here for us to look at doing this again."
SERVING THOSE WHO SERVE
Wegner also says he enjoyed getting to know numerous HFD personnel during the effort, many of whom he now counts as Facebook friends.
"I can't say enough about the hospitality down there and genuine amount of thanks that people gave for not even knowing us," Wegner said, adding that he especially enjoyed conversations with local firefighters in the evenings. "The Houston Firefighters Union supplied refreshments every night, so in the parking lot, we'd pick a spot with some chairs. We sat outside and drank beer and had good conversation."
The sense of camaraderie is deep in the fire service, but Wegner says he felt it really strongly while in Houston.
"I've done a lot of things in 25 years on a combination department, and the feeling that I got out of doing this, especially once we were done – I don't think there's anything that really touched it," he said. "We were going to help the Houston heroes, people who are always putting their lives on the line for other people."
Stein agrees that the experience was unforgettable. Although hundreds of volunteers came from every corner of the country, she said, this group has a special place in her heart.
"It was so nice to get to know these people – just incredibly big-hearted, generous people I'll never forget," she said. "They did a remarkable job, and they were tireless."
Before Team Wisconsin started for home, HFD District Chief and Master Mechanic Harold McDonald gave what Stein and Wegner described as a very emotional and moving speech and presented each of the visitors with a letter of thanks and commendation. By the end, there wasn't a dry eye in the room, Stein said.
"It was very heartwarming to us for them to recognize us that way when all we wanted to do was come down there and help," said Wegner.