Black firefighter sues city for allowing fire dept. racism to persist
Lansing Fire Department firefighter Michael Lynn Jr. claims city officials did nothing after he found a banana on the windshield of his assigned truck
---
By FireRescue1 Staff
LANSING, Mich. — A black firefighter filed a lawsuit against city officials, whom he claims did nothing to stop racism within the fire department.
Lansing Fire Department firefighter Michael Lynn Jr. claims the city failed to prevent ongoing discrimination directed at him and other black firefighters in the department, The Lansing State Journal reported.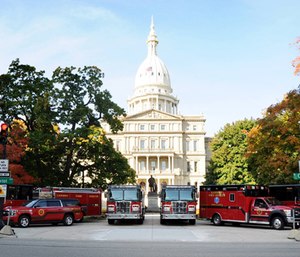 Lynn's lawsuit claims the issue escalated March 14, 2017 when he found a banana on the windshield of his assigned truck.
The lawsuit said the banana was "pinned between the windshield and wiper blade obviously placed there to harass and intimidate" him and another black colleague.
Lynn added that he was retaliated against after complaining about the incident, and that the city did not protect him.
"While the city emphatically denies the allegations in this lawsuit, the city takes all such complaints seriously," Mayor Andy Schor said. "Since I became Mayor we have instituted affirmative steps to promote diversity and inclusion in our workforce and all city policies."
The lawsuit said Lynn was hired through a diversity program that was "an approach for employment that placed emphasis on fit for the job rather than simply satisfying prerequisites for the job."
Lynn claimed his colleagues did not like the program and created a hostile workplace for minority responders.  
"He had been subjected to a lot of racially hostile comments and things that were directed at his race … so when he went to his rig and there was a banana on the windshield, that was pretty direct," Lynn's attorney, Scott Batey, said.
The incident prompted Lynn to seek medical leave for "stress, anxiety and depression due to the racial discrimination at work," according to the lawsuit, which said he took unpaid family leave and paid administrative leave, during which he met with Lansing human resources and fire department officials to discuss racism.
The lawsuit said Lynn "immediately became a target for racial discrimination" upon returning to work in 2018.
Lynn filed a second racial discrimination complaint in October 2018 and said he was retaliated against through false discipline records.
The records show that Lynn was cited for starting a fight, incorrectly requesting sick time, insubordination and an "obscene" Facebook post.
"We're confident we're going to be able to show that it's false," Batey said.
Lynn said he is currently on light duty and works in the maintenance and alarm division, where he is removed from the staff he previously had issues with.
"It's been four and a half years that I've been working here, and I made official complaints as of two years ago and nobody I've made complaints about, no matter the amount of evidence I've given them, has been disciplined," he said. "No policies have been put in place to help somebody of color from going through the discrimination that I've gone through."