Artist thanks Duluth rescue crew with marble carving
The marble piece is a gift to the station after a rescuer there pulled artist Eric Waller and a friend from a car wreck in June 2012
---
By Adelie Bergstrom
Duluth News Tribune
DULUTH, Minn. — Fire and rescue crews sometimes hear from people they've helped long after a crisis has passed.
It's not every day, though, that they get a handcrafted work of art.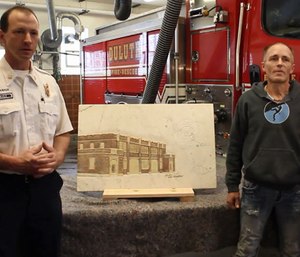 That's exactly what happened Thursday morning, however, at the Duluth Fire Department's Station 10 in the city's Gary-New Duluth neighborhood. Duluth artist Eric Waller presented staff with a relief depicting the fire station carved into a slab of white Italian Carrara marble.
The marble piece is a gift to the station after a rescuer there pulled Waller and a friend from a car wreck in June 2012. Thursday was the first time Waller, 49, had met the crew who saved his life, he said.
Waller suffered a broken pelvis and other fractures in the crash. His recovery took about six weeks, though doctors had told him it could take five months.
Waller was under the influence of alcohol at the time of the crash, and he later was convicted of criminal vehicular operation, a felony, though the sentence was stayed, and once Waller completed probation and other requirements, the sentence was reduced to a misdemeanor.
"It was a life lesson," Waller said. "We went off the road. ... Both of us were thrown from the vehicle."
Duluth Fire Capt. Mike Consie and his partner responded to the crash that night in 2012, a single-vehicle rollover on Grand Avenue between Gary-New Duluth and Morgan Park. The pickup truck involved had struck a power pole and damaged a fire hydrant before coming to a rest on its roof, Consie said.
Consie, who has been with the department for 17 years, said firefighters occasionally hear back from people they've helped, but the carving goes beyond.
"We've definitely had people express gratitude to us for our service; this is definitely one of the more memorable things that we have gotten from somebody saying thank you," he said. "It's a pretty remarkable piece, and it's nice that we'll be able to keep it for years and years to come."
Waller doesn't remember the crash, but that hasn't changed his sense of gratitude.
"I came to realize that life gives you a different gift after coming close to death," Waller said at the fire station Thursday. "Since then, I've got a 2-year-old son I love, and the world's been great."
Duluth Fire Chief Dennis Edwards said the marble piece comes just as the nearly century-old fire station is being remodeled to give fire crews more workspace. The piece will be on display in the fire station's front entryway.
Waller initially started on the piece six years ago, after the crash, but then set it aside until just recently. In all, it took him "a heavy week" to do the carving using a diamond-head grinder and a dremel tool, followed by dental tools for the fine-detail work. The marble was taken from an former ice cream shop in Hibbing, he said.
In addition to carving, Waller works as the maintenance and grounds supervisor for the Vintage Acres manufactured home park, just a few blocks from the fire station.
Waller was soft-spoken but generous in giving thanks at the fire station Thursday.
"People like this guy, and you guys," he said, gesturing to the firefighters standing next to him. "You're saving people every day. It's quite amazing. Every one of us will need you one day; it's just a matter of when. And you never get thanks."
But Waller is grateful, and driving by the fire station is a daily reminder of that gratitude, he said.
"Everybody's got a second chance."
Copyright 2019 Duluth News Tribune
McClatchy-Tribune News Service