Random Acts inspires new generation of firefighters
Oakland nonprofit illustrates how simple actions can positively impact community and department members alike
---
Firefighters may sometimes feel frustrated or emotionally affected in the aftermath of emergency response. They see so much injury and pain and loss and are often helpless to do much to help beyond addressing the most immediate needs in the moment. In most cases, they never again see the people with whom they have shared such desperate and intimate moments of their lives.
This disconnect can hurt those on both sides of the equation. Community needs that are noticed by emergency responders may go unaddressed. And firefighters feel growing pain that they cannot do more to help.
In 2000, firefighters in Oakland, California, decided to face this disconnect and do something about it.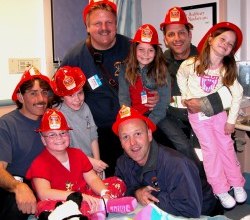 Random Acts origin
A small group of Oakland Fire Department members formed a nonprofit 501(c)3 called Oakland Firefighters Random Acts. The stated mission of this organization is "creating a positive difference in the lives of individuals through random acts of kindness."
Here's how it works: During routine activities or emergency response, any fire department member, from the newest probie to the chief, can observe and report on an unfilled need within the service community. Such needs are often modest—a crib to replace a broken one for a new mother, an upgraded wheelchair that can maneuver in someone's small apartment, an air conditioner for a disabled man living in a stifling room. These requests go to the board of the organization, which makes decisions about what requests to fill. If a request is granted, then those who made the original report have the opportunity to deliver the gift to the community member in need.
The organization runs on donations, grants and volunteer labor. Its egalitarian approach for how decisions are made is underscored by its motto, "No egos, badges or resumes." Anyone can submit a request, and that person is treated equally regarding the importance of that request and in the ultimate delivery of the solution. As the organization's website states, "The program is for everyone in our department, and all we want is a commitment from the heart."
Benefits of Random Acts
There are countless benefits from this program. Real needs in the community are being met, ones that might have gone unnoticed or unfulfilled in the past. The program creates an avenue for positive relations between emergency responders and those they serve.
Because the organization is independent, it is not beholden to political or other interests in how it is managed. Random Acts' independence also allows for diverse interests and organizations to come together, and the group receives support from IAFF Local 55, the Oakland Fire Department, the Oakland Black Firefighters Association, and the City of Oakland, in addition to outside donors.
Equally valuable as the service to the community is the benefit of the Random Acts program for the members of the Oakland Fire Department. As founder and retired Oakland Firefighter Larry Hendricks said, the program "empowers someone to use their badge to open any door" and encourages firefighters to use their positions to make good memories, not only for community members but also for themselves.
Over the years, Oakland Firefighters Random Acts has expanded its reach into many different areas, including delegations sent to Central America to assist with medical care delivery and local programs that provide support for hospitalized children or senior citizen groups.
One of the most visible projects was the restoration of a 1967 open-cab Van Pelt fire engine that had been long retired from active service and was rusting in a back lot. With an "It Takes a Village" attitude, the organization coordinated among diverse groups and individuals to refurbish the engine so it could be used for parades and events to represent the Oakland Fire Department. In addition, the refit included modifications so that the engine could also be used as a hearse for funerals of current and retired Oakland firefighters.
Good ideas tend to take on lives of their own, and this has been the case with Oakland Firefighters Random Acts. In addition to forming partnerships with other organizations, such as the Federation of Fire Chaplains, Random Acts clones have sprung up in Berkeley, California; Albuquerque, New Mexico; and Hillsboro, Oregon, among others.
Continued impact
Twelve years ago, I went to Oakland to speak at a fire conference. The young firefighter who picked me up at the airport was full of enthusiasm for his new career. When I asked him what he liked best about the job, his response was predictable: "I love fighting fire, and we get a lot of fires here."
When I asked him what else he loved about the job, he paused. Then his face lit up as he said, "We have this really cool program here called Random Acts. Anyone can be part of it, and we can really make a difference in people's lives. It's great."
What began as a spark among a couple people has now grown into a program that has touched the lives of millions and inspired a new generation of firefighters. That's the power of good people sharing a good idea and making it happen.