Conn. fire association explains need for a Rapid Intervention Team
In Bridgeport, he team handles any firefighter emergency that happens on scene and is made up of at least four firefighters
---
Tara O'Neill
Connecticut Post, Bridgeport, Conn.
When something goes wrong while firefighters are putting out a fire, that's when the Rapid Intervention Team steps in.
The RIT is trained and ready to do one major thing: rescue a downed firefighter in need of help.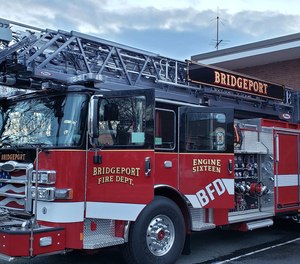 In Bridgeport, that team is prepared with additional air tanks and some medical supplies. The team handles any firefighter emergency that happens on scene. Often, these teams are made up of at least four firefighters.
The Connecticut Fire Police Association said the teams are established at the beginning of all building fires to ensure the department's firefighters are protected.
The team is a necessity, since firefighters on scene extinguishing flames don't necessarily have a chance to stop what they're doing to help get an injured or unconscious firefighter out of a burning building. Instead, the RIT does that.
When the RIT first gets there, they position ladders for emergency escapes. The Connecticut Fire Police Association said the team will often support efforts to open up the building, making it safer for them to respond inside for a downed firefighter as needed.
"After the fire is darkened down the RIT can help relieve tired crews during the overhaul phase and that helps prevent injuries and secondary emergencies," the association said.
The association said the RIT will most times be seen standing outside the fire "watching...waiting...and hoping they're not needed. Because if they are, they're likely a trapped firefighter's last hope."
In Bridgeport, firefighters train daily for a mayday — meaning a firefighter is pinning, trapped, disoriented or otherwise incapacitated while on scene battling a fire. The drills started in 2011 after two Bridgeport firefighters died on the job in 2010 when their mayday calls went unanswered.
The firefighters in the city are trained to active their personal alert safety system device, which lets out a loud noise, similar to a smoke alarm. On scene, the RIT is trained to follow and find the piercing sound.
———
©2019 the Connecticut Post (Bridgeport, Conn.)
McClatchy-Tribune News Service