Rapid Response: Historic landmark fires are a tactical and emotional challenge for firefighters
Your jurisdiction likely does not have a building as old or as historic as the Notre Dame cathedral, but it is sure to have buildings of local importance that need preplans
---
By Greg Friese
What happened: Notre Dame, an iconic cathedral in the center of Paris, caught fire Monday evening. The building's spire collapsed and the entire frame of the building, which is under renovation, was burning.
The Paris Fire Brigade is reported to have said the fire is "potentially linked" to the renovation work. It might be days or weeks before the fire's cause is known, and in the early hours of the fire, the number of injuries or fatalities is unknown.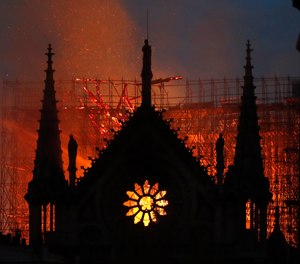 Why this incident is significant: The Notre Dame cathedral is one of the world's most famous buildings, the top tourism destination in Paris, and the building's art and contents are priceless. While battling the fire, crews are reported to be attempting to save priceless artwork from inside the 12th century building.
Top takeaways on landmark building fires
Your community likely does not have a historic building as old or as visited as Notre Dame, but your coverage area is sure to include houses of worship and historically significant structures. Even in the early hours of this incident, it's not too early to discuss with your department or company response to landmark buildings and houses of worship. As I consider the unfolding incident, here are four initial takeaways.
1. Preplan response to landmark buildings
The fire, EMS and response to incidents at churches, schools and other mass gathering locations warrants preplanning. Whether the incident is dispatched as "active shooter" or "smoke showing," there should be a preplan for response configuration that is known to all members and the subject of regular training.
2. Crime scene evidence protection
The fire at Notre Dame is a crime scene until proved otherwise. All responders need to be considering terrorism or arson as a cause and looking for clues during their scene response and on-scene operations.
3. Landmarks are part of our identity
I grew up in Green Bay, home of Lambeau Field, the best-known building in the entire state. Lambeau is visible from every corner of the city, and if it were gone, there'd be an always looming emptiness for residents and regular visitors. I suspect many firefighters in New York City still look to the skyline for the Twin Towers.
Damage to or attack on one of our hometown, home state or national landmarks feels personal. When a landmark disappears or is suddenly altered, it has a mental and emotional impact on civilians and responders.
4. Emotional response increases the risk
I worry that Paris firefighters, police officers and paramedics are taking on dangerous levels of risk because of their lifelong emotional connection to Notre Dame and its constant presence in their city. Many of them have probably attended services, toured the cathedral as a child, or brought out-of-town visitors. This is their place.
As an incident commander, it's critical to recognize the emotional triggers personnel might experience when the incident is at their home, their church or their children's school. Responders who lose sight of the tasks at hand, because of an emotional connection to the building, might be more likely to push the limits of protocol and equipment, putting property safety ahead of life safety.
4. Grief and learning for lost places
When we lose a place to fire, natural disaster or terrorism, it is natural to grieve the loss of the place, likely because of the memories we associate with the place. I was blocks away from the 2013 Boston Marathon finish line when I heard the explosions, but my memories of that day and the race I ran are forever impacted by the attack on spectators and runners. As a public safety community, we share grief when we remember incidents like the Hurricane Katrina­-flooded streets of New Orleans, an active shooter's mass murder in a Pittsburgh synagogue, or the Camp Fire-ravaged streets of Paradise, California.
For many of the Paris Fire Brigade firefighters, this isn't just another fire. It's likely a day that will define careers and impact the department's recruiting, training, code enforcement and suppression actions for years to come. But more importantly, the firefighters who responded today, as well as the firefighters who were off duty and too far away to respond, will need the support of their peers and chiefs to process what they've experienced and prepare for the next emergency, no matter how large or small.
What's next: As the Paris Fire Brigade continues to battle the flames, chiefs and company officers in the U.S. should review preplans for landmark buildings in their response area and review the specific dangers to firefighters when responding to a church fire.
Learn more
Temples, churches, synagogues and mosques, due to their construction, occupancy and symbolism, can be a target for violence and present a unique challenge for responders. Learn more about past fires in houses of worship and what we've learned with these resources from FireRescue1.