The diversity paradox: A true commitment to change needed in the fire service
A commitment to diversity and inclusion must be practiced and reaffirmed constantly in both behavior and underlying culture
---

Diversity is one of those things that all fire departments know they should be concerned about, but few fire departments really want to deal with.
At the very minimum is the reality that no one wants to get sued. Fire departments don't want to be in violation of federal or state law or to be seen as discriminatory.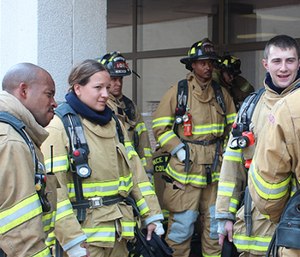 But many fire departments want to do much more. They want to represent their communities, they value the strength that diverse experiences, attitudes and insights bring to the organization.
These organizations want to bring in diverse members but are often frustrated in the process of diversity recruitment and retention.
First is the problem that many departments dedicate few if any resources to recruitment generally. They've always had plenty of qualified applicants, more than they can ever hire. Why go looking for people who might not even be that interested in being part of the emergency services?
The fire service has tended to be largely self-replicating over generations. It's often a family affair, with children, siblings, cousins and close friends following existing members into the department.
It makes sense on one level. If you are knowledgeable about the fire service and have an insider's view of it, you are much more likely to have an informed interest in joining yourself. On the other hand, if you have never met a firefighter or set foot in a fire station, it is hard to even consider becoming a firefighter.
FDNY breaks unsuccessful recruitment patterns
One fact about recruitment into any profession is that people are more likely to have a realistic interest in pursuing that goal if they see people who look like them already doing it. For instance, if as a woman you have never seen a woman firefighter, it is easy to believe that doing that job is impossible.
That is the recruitment conundrum for even the most well-meaning fire departments. If they have not already had success in recruiting under-represented members of the community, it is that much harder to convince the community that they are really serious about including those groups. It's a case of: if you do what you've always done, you tend to get what you've always got.
It takes a real effort, and resources, to break this pattern. From the standpoint of strategy and tactics, there must be a comprehensive plan and buy-in at all levels.
The City of New York Fire Department, which has historically underrepresented its service community among its ranks, has recently made such an effort. Among resources created for the effort were large banners that hung on every city fire station, featuring photographs of some of the existing diverse members of the department, who also served on its recruitment outreach team.
Lt. Andrew Brown was one of the firefighters featured. In a New York Daily News profile, he stated, "This job is an option a lot of young kids don't know about it. I say, listen, here I am, a young kid from the West Indies, and now I'm an officer in the FDNY – it's a great career."
Firefighter Jackie-Michele Martinez, also featured in the campaign, said, "There were 29 women when I came on and then that number went down, but now it's up to 58, which is great. We need more and our message is, 'You'll never be alone, you can do this job, and you will always have plenty of support.'"
FDNY Commissioner Daniel Nigro said the banners were part of a $10 million program to improve the department's diversity profile, and so far the results are promising. As of June, the department had a record number of applicants in its hiring pool, with African-American, Asian and Latino applicants up by 15 percent since the previous hiring, and women up by 4 percent.
Banners were not the only tool used in this massive campaign. The department and groups such as the United Women Firefighters and the Vulcans (the African-American advocacy group within the department) frequently sponsored outreach events and pre-training opportunities.
But getting people to sign up to take the test is only the beginning. As Regina Wilson, president of the Vulcans, said, "We need to also look at the plan to address attrition among applicants and improve retention – we have to stay focused on the whole recruitment and hiring process to make sure people get on the job."
Focus on the value of unity
The FDNY is the largest fire department in the United States, serving one of the most diverse population bases, and with the most resources to commit to a diversity recruitment effort. And still they struggle with the issue of diversity and suffer setbacks despite best efforts, including a high-profile hazing lawsuit filed by an African-American member of the department, which came to light at the peak of their recent recruitment effort.
Smaller departments face even more challenges as they try to make their departments more open to diversity. Partly in response to a veteran firefighter transitioning from male to female, Spokane, Washington Fire Chief Brian Schaeffer put up posters on every fire station stating that "Hate has No Business Here" and further saying, "We respect women. We value black lives. We stand with our LGBT Community Members. We stand with immigrants and refugees and people of all faiths. We stand with our community. All are welcome here."
Chief Schaeffer also stressed that the department is focused on the value of unity rather than simply diversity. The recent retirement of veteran firefighters and the hiring of many new, young firefighters has given the department the opportunity to "start right then and there with the concept of unity and how we treat each other, and how we recognize and celebrate differences in people," Chief Schaeffer said. He reports that new employees are open minded and accepting, "more than I ever could have anticipated."
But there has also been pushback against this effort. The chief has received mail from all over the country, much of it critical of his efforts. "I wouldn't call it hate mail," he said, "but it was mail from all over the United States, being very vocal in their displeasure with us supporting our employees, specifically the most recent story that came out about our transgender captain."
The beginning of the diversity conversation
One thing that is clear is that a commitment to diversity and inclusion must be practiced and reaffirmed constantly, far beyond just doing a class once a year. Training, when done well, can be very beneficial, but it should be the beginning of the conversation rather than the end. If true commitment to inclusion and equity is not the standard from the top down in an organization, other efforts can be rightly seen as just lip service.
For fire departments to truly represent and include their diverse service communities, they have to make the effort to know those communities. There must be a relationship in place between fire department members and the people they serve that goes beyond just showing up on a 911 call.
Some fire departments have worked to enhance this community relationship through the creation of community spaces within fire stations, or through outreach programs that target populations that may be more vulnerable due to age, life circumstances, or cultural or language differences. Some fire departments provide incentive pay for foreign language skills, while others may contract with outside translation services. These kinds of outreach programs present the fire department to the community in a positive light and underscore that firefighters are allies to all they serve.
Outreach programs may be especially effective when they focus on younger members of the community. Firefighters have always done school programs, but many departments are beginning to tailor these programs to specific populations for maximum effect.
Scout troops and Explorer posts sponsored by fire stations are one way to introduce young people to the idea of a career or vocation as a firefighter. Departments may have to make a special effort to include children who have not traditionally had access or experience with such programs.
Girls' fire camps are one way departments have reached out to young women in the community who may not have considered a future in public safety. The camps, which usually last 2-5 days and include girls from 14-17 years old, give young women the opportunity to learn hands-on skills of firefighting in a safe and supportive environment, led by women who are currently working in the emergency services. These camps may be hosted by an individual department, a state fire agency, or in the case of Camp Fury, a partnership with the Girls Scouts of America.
Overcoming institutional obstacles to diversity
Diversity recruitment has been a challenge for the fire service for generations. In many places, it is not identified as a priority and thus tends to be undervalued and poorly resourced. One nationally prominent retired fire chief was not optimistic. "I'm not sure that there is anyone who can really overcome the institutional obstacles that the fire service has come to represent. I think there are a set of concepts that are good, but few who have been successfully implementing them all. The fire service is still the least diverse public funded function in the country according to the Bureau of Labor Statistics."
Others recognize the reality, but maintain hope and a sense of purpose in creating a better future. One newer chief spoke about a meeting he held with minority members of his department a year ago. He described that meeting as "brutal," and said it was "Honestly very hard for me to get my head around what some of our people had to endure in the early 1980s and 1990s as minorities. The even-more-concerning issue, was that some of the untoward treatment or discrimination that existed years ago was woven into aspects of our culture – and that had to stop immediately."
This chief and others like him are ready to stand up for inclusion, equity and unity in the fire service. The first step in this fight is recognizing the reality of the situation, and making a commitment from the top down to a different future. As one chief observed, "Our world is changing, but we're not changing." A true commitment to change, not just in behavior but also in underlying culture, is the first step in this process.