Ga. firefighters rescue injured worker dangling from cell tower
Gwinnett County Fire and EMS firefighters found the man suspended in the air near the top of the tower, conscious, but unable to free himself
---
Zachary Hansen
The Atlanta Journal-Constitution
GWINNETT COUNTY, Ga. — Firefighters were able to rescue an injured worker who was dangling more than 100 feet about the ground from a cell tower Monday afternoon.
The man, who was part of a contracted crew, was injured while climbing the tower in the 4900 block of West Price Road just before 4 p.m., Gwinnett County Fire and Emergency Services said in a news release.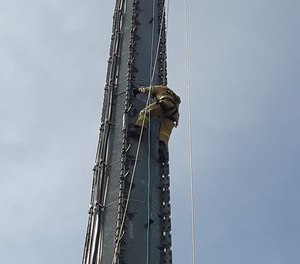 Firefighters found the man suspended in the air near the top of the tower, the release said. The man was conscious, but he wasn't able to free himself.
Two other members of the contracted crew were with the injured man, but they needed firefighter's help to get him safely to the ground, the release said. A firefighter with the department's Technical Rescue Team was able to scale the tower and reach the group.
They were able to rig a rescue harness and belay line to the injured man, allowing them to safely lower him to the ground, the release said. Neither the man's name nor his injuries were released.
"The operation was methodical due to the fact that rescuers had to stabilize the worker as they prepared him for the long descent," the release said.
The man was taken to a local hospital for further medical treatment. No other details were provided.
———
©2019 The Atlanta Journal-Constitution (Atlanta, Ga.)
McClatchy-Tribune News Service