Texas firefighters rescue 7 trapped in house fire
Fort Worth crews found the residents in the back of the house
---
Domingo Ramirez Jr.
Fort Worth Star-Telegram
FORT WORTH, Texas — Seven people trapped in a house fire Thursday morning were rescued by Fort Worth firefighters, a fire department official said.
The residents suffered minor injuries in the blaze, which was reported just before 4 a.m. in the 2600 block of Rodeo Street in southeast Fort Worth.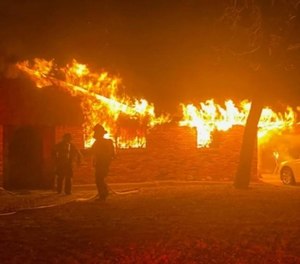 When they arrived, firefighters found heavy fire coming out of the front of the home. Crews also were told that several people were still trapped inside of the residence.
Firefighters found the residents in the back of the house. Firefighters using rescue tools got inside of the home and saved the residents before the house was destroyed by the fire.
It took firefighters about 20 minutes to extinguish the blaze.
The cause of the fire was under investigation.
Fort Worth fire officials noted that residents should have two ways to escape from a home in case one route is blocked by fire.
___
(c)2022 the Fort Worth Star-Telegram
McClatchy-Tribune News Service