Zoe Saldana plays real-life hero after Calif. car crash
Actress who starred in 'Avatar' jumped to rescue of injured elderly woman after witnessing car accident
---
The Columbus Dispatch
CULVER CITY, Calif. — A new celebrity hero has joined the ranks of real-life do-gooders.
Zoe Saldana jumped to the rescue of an injured elderly woman this week in Culver City, Calif., after witnessing a car accident that left the driver with a scratched and bloodied face.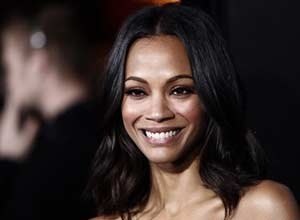 According to reports, the 33-year-old Avatar star sprang from her car and, with the help of a fellow bystander, assisted the distressed woman from her vehicle to the curb, where the actress helped her sit before calling an ambulance.
Saldana waited with the woman until paramedics and officers arrived, and even went back to the victim's car to collect her purse and sweater.
Later, the actress was seen speaking to police officers and firefighters at the scene. She didn't leave the unidentified woman's side until she had received the medical attention she needed. Saldana is filming a Star Trek sequel.
Copyright 2012 The Columbus Dispatch
All Rights Reserved