Hawaii officials decline to release wildfire response timeline information
Citing pending litigation, officials have refused to release response information on the wildfire that killed 115 people
---
By Peter Boylan
The Honolulu Star-Advertiser
WAILUKU, Hawaii — Maui County officials Tuesday again declined to release a timeline of their response and disclose when they knew that people had died in the Aug. 8 Lahaina fire, which took at least 115 lives and gutted the historic heart of Lahaina town.
Citing pending litigation, ongoing investigations and a county after-action probe, a detailed description of the county and state response to the Maui wildfires will not be available, county officials maintained.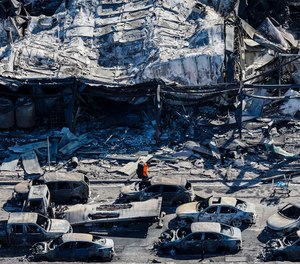 "We're still in the process of the response. There will be an analysis, a review of the early days and the hours following (the fire outbreaks)," said Mahina Martin, county communications director, at a news conference. "Speculating or guessing the hour and minute-by-minute blow here at the podium would not be correct. We would like to have accurate information available. Speculating is not a good thing for us right now."
Mayor Richard Bissen declined to answer questions from reporters about when he learned that people had died in the Lahaina fire. He also did not disclose why Maj. Gen. Kenneth Hara, the state adjutant general, had not been told the extent of the damage and deaths until Aug 9.
"I can't speak to what or whose responsibility it was to communicate directly ... with General Hara," said Bissen. "I'm not going to speak to social media. I wasn't on social media. We didn't have time for that. I don't know who spoke to General Hara."
In response to a question from Hawaii News Now about who was in charge of the incident at the Maui Emergency Management Agency on Aug. 8, Bissen responded, "I'm not sure who was in charge."
He said he thinks Herman Andaya, who resigned citing health reasons shortly after defending his decision not to use civil defense sirens to warn people about the Lahaina fire, was in charge even though Andaya was attending a Federal Emergency Management Agency conference on Oahu with other federal, state and county emergency management officials.
Bissen said he didn't know "the chain of command" if Andaya was off island at the time.
Bissen said he had been in communication with the county's Emergency Operating Center during the fires, including a virtual meeting the morning of Aug. 8 because the Kula fire had started late the night before.
Hara, who was at the news conference, said hurricane-force winds Aug. 8 grounded helicopters traditionally used to fight wildfires.
In response to a question about how many people died waiting for government officials to respond to the catastrophe and whether the Hawaii Emergency Management Agency could have done more, Hara said, "Personally, I don't think so."
"The rate that the fire spread ... 60 to 85 miles per hour, you think about that. That's a mile a minute. Even the Fire Department that was on the ground, that almost perished ... didn't know how deadly it was and how quickly it was going to spread," said Hara. "That fire was so rapid, and by the time everyone had situational awareness, it was too late, unfortunately."
Maui Fire Chief Bradford Ventura said the department shares a 911 dispatch center with Maui police, and their radios were working during the critical two-hour period that communications were down in West Maui.
In Lahaina it took about 25 minutes for firefighters to transition from a "field fire" to the houses to start evacuating people, the fire chief said.
---

Read more:
Rapid Response – Winds push 'unstoppable vortex of fire' across Hawaii
While no fire department is ever fully prepared for such extreme conditions, we must constantly review and practice our response efforts
---
Bissen said now that 100% of the devastated area of Lahaina has been searched, the next part of the recovery will involve the U.S. Environmental Protection Agency and the Army Corps of Engineers removing hazardous materials.
EPA's incident commander, Steve Calanog, told reporters that about 150 people are working on the debris and hazardous material removal. About 30% of the workers are local contract hires, and 25 cultural observers will monitor the teams as they move property to property removing hazardous household materials, mostly by hand.
"They are pulling out by hand the hazardous materials they identify," said Calanog, noting that workers will use respirators and head-to-toe personal protective equipment.
One major concern is the presence of lithium ion storage batteries that kept energy generated by photovoltaic systems. There were many systems in Lahaina that were damaged by the fire and have to be handled like "unexploded ordnance."
Lt. Col. Ryan Pevey, Honolulu District commander for the U.S. Army Corps of Engineers, said the cleanup efforts will respect the legal rights of residents and Native Hawaiian culture, history and traditions.
"There is no intention to go in there and bulldoze stuff down," he said.
(c)2023 The Honolulu Star-Advertiser
Visit The Honolulu Star-Advertiser at www.staradvertiser.com
Distributed by Tribune Content Agency, LLC.
EARLIER: Initial FF actions scrutinized, questioned in Hawaii wildfire tragedy
McClatchy-Tribune News Service