Firefighter-paramedic with one hand retiring, launching nonprofit for amputees
Clark County Fire Capt. Robin Brown, one of the first hand amputees to be hired as a first responder in the U.S., is retiring after 37 years
---
By Laura French
LAS VEGAS — A firefighter and paramedic with one hand is retiring after nearly 40 years of service and is planning to launch a nonprofit organization for fellow amputees.
Clark County Fire Capt. Robin Brown became one of the first hand amputees to be hired as a first responder 37 years ago, and has been in the fire service for 29 years, according to KTNV. Brown was hired before the Americans with Disabilities Act was passed in 1990.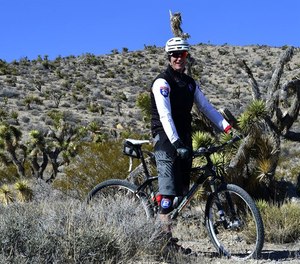 "I said, 'I want to be graded fairly with everybody else. And tell me whether I'm good or not good based on what everybody else is,'" Brown said.
Brown lost his left hand in a farming accident at the age of 3. He said growing up on a farm got him used to physical labor, and that the accident never slowed him down.
Brown and his wife Laura are now starting a nonprofit called One Hand One Glove, which seeks to connect one-handed athletes through the exchange of leftover gloves.
"She actually came up with the idea," said Brown. "And it's because I have a lot of left hand gloves lying around the house."
The pair says they hope to grow the nonprofit and start hosting cycling events to benefit veterans, first responders and disabled athletes.