Missing Ind. toddler rescued by volunteer firefighter
The 3-year-old boy had been missing for more than 10 hours in cold temperatures when he was found by the firefighter
---
Traci Miller
The Herald Bulletin, Anderson, Ind.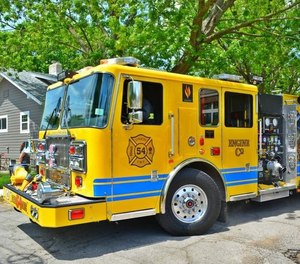 PENDLETON, Ind. — Standing outside his vehicle with the door propped open, Justin Harmeson had been stationed at the entrance of Summerlake to direct traffic for only about an hour when he heard a faint crying sound.
"At the very first I wasn't able to tell what it was, but after multiple times I kept hearing the noise and was able to tell it sounded like a child crying," said Harmeson, 20.
Abdul Azeem Agboola, 3, was reported missing around 2:30 a.m. Wednesday — almost an hour after he was seen on a home surveillance video walking away from his family's home in the 8600 block of Winton Place in the newly developed housing addition of Springbook.
More than 100 members of law enforcement from Madison County and the surrounding area began to search for Abdul around 4 a.m. and by 11 a.m. they had doubled back to recheck under trees and anywhere a 3-year-old might hide.
The boy had been missing for more than nine hours when Harmeson, a volunteer firefighter with Chesterfield Union Township Fire Department and correctional officer with the Madison County Sheriff's Department, located him at 11:44 a.m.
Harmeson said he started looking around to determine where the sound was coming from. That's when he saw a small face peek over the edge of the opposite side of the roadway on Indiana 13.
"When I saw him, I instantly started to walk out onto the road, making sure traffic was stopping," Harmeson said. "When I knew traffic was stopped I ran over there, and as soon as I got over there he instantly raised his arms up toward me."
Harmeson said he scooped up the child and carried him back to his car hollering at nearby officers that he had found the boy.
"They called an ambulance and we had him in the back seat of my car covered up with my jacket," he said. "I set him down in the back seat of my car and I was sitting down by the door on the floorboard of the car almost right next to him."
The sun was shining brightly, but temperatures had been in the 30s and 40s for most of the morning. They were hovering in the low 50s with a brisk breeze when Harmeson found Abdul shortly before noon. He said the little boy was dressed in a short-sleeved shirt and shorts without shoes or socks.
"He was basically down in a ditch and there was drainage in there," Harmeson said. "There was not a lot of standing water, but his feet and legs were wet."
The boy's body temperature was 97.7 degrees when paramedics checked him at the scene, according to Madison County Sheriff Scott Mellinger.
"According to paramedics his clothing was very wet and his legs were very cold," said Mellinger in an email. "Very little trace of dirt. There were no visible injuries and he only complained of being cold. He was transported to Riley Hospital for thorough examination."
Harmeson said when he picked up the little boy he didn't feel cold to the touch. He said he isn't sure why Abdul wasn't spotted by overhead helicopters searching the area, but it might be because the boy was near a drainage pipe that ran under the highway.
"I don't know if he had been sitting inside the drainage area for awhile and that's why they didn't see him," he said. "He was basically standing right at the entrance of the drainage pipe."
Harmeson said he also can't believe how the events leading up to him discovering the little boy had unfolded.
"It truly was a miracle of me being there," he said. "If I hadn't been there, I don't know how much longer they would still be out looking for him right now."
The sheriff was also pleased the boy was found unharmed.
"The outpouring of mutual aid today was incredible," Mellinger said. "Regardless of how many hours and how much effort you put in, you couldn't ask for a better ending."
Abdul was found between one-quarter to a half-mile from his home, Mellinger said. Madison County officials were also made aware of one other instance of the little boy leaving his home, but he was found by a neighbor within minutes of his disappearance.
___
(c)2021 The Herald Bulletin (Anderson, Ind.)
McClatchy-Tribune News Service