Firefighters' passion for BMX racing inspires community event
The Hanford Fire Department will hold their first free "Ride a bike with a Firefighter" event for kids and teens
---
Julissa Zavala
The Hanford Sentinel, Calif.
HANFORD, Calif. — Mixing a passion for the community and a passion for BMX racing, Hanford firefighters are holding their first ever "Ride a bike with a Firefighter" event.
The event will take place this Saturday, Feb. 1, from 10 a.m.-12 p.m. at the Hanford BMX Raceway, 501 S. Brown St. This is a free event where kids and teens can practice and ride the track with local firefighters.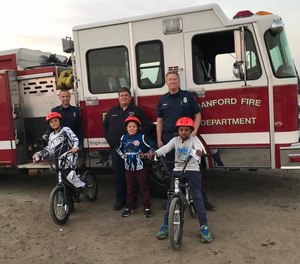 Hanford Fire Department has several connections to BMX racing: HFD Engineer Derek Weisser runs the BMX tracks in both Hanford and Lemoore, and Firefighter Austin Hiatt raced for 17 years.
Hiatt said they wanted to create an event to give back to kids and the community while getting kids more involved in the sport they love.
When he was 6 years old, Hiatt was introduced to BMX racing and it instantly became his favorite sport, allowing him the opportunity to travel to different placed to compete. He said he raced professionally until he was 22 years old.
Hiatt is still involved with the sport through coaching and working with local kids.
"It's a way to connect with the community," Hiatt said, adding at least five firefighters will be in attendance to ride with the kids. He said an engine and a patrol vehicle will also be out at the track.
Hiatt said the firefighters enjoy serving and being a part of the community, so they love coming up with more opportunities to interact with the youth.
"It'll be a really cool community event," he said.
McClatchy-Tribune News Service