Iowa community opposes city's Public Safety Officer program
More than 150 people went to a city council meeting to offer a rebuttal against a program that replaces full-time firefighters with public safety officers
---
By Thomas Nelson
Waterloo-Cedar Falls Courier
CEDAR FALLS, Iowa — More than 150 people came to Monday's City Council meeting to offer a rebuttal to the city's recent mailing about the Public Safety Officer program.
People in red shirts signifying opposition to PSO program filled City Hall. Council chambers could not hold the crowd, which overflowed into nearby rooms.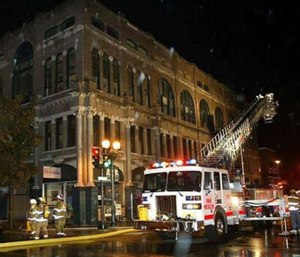 Members of the group "Stand Up for Safety, Cedar Falls" organized the turnout and have been distributing signs, shirts and stickers calling for the city to hire more firefighters and seeking a public forum with city officials on the issue.
A recent "special edition" of the city newsletter Currents was dedicated to defending the PSO program and included data on the cost of firefighting that angered many PSO opponents.
During the meeting 21 people spoke about the PSO program, some for it, most against it. Several were rural Cedar Falls residents, who live outside city limits.
Public Safety Director and Police Chief Jeff Olson addressed several issues they brought up.
"I think there's a lot of misinformation," Olson said. He said an enormous amount of research went into creating the program.
"A lot of the cities don't want to do this because of what exactly is happening right now," Olson said.
Many attending were emergency responders from neighboring communities.
Sharon Regenold, a retired Cedar Falls firefighter captain, sent a letter to Mayor Jim Brown before the meeting requesting he hold a public forum on the program Monday night. Brown rejected the request.
"If history is any lesson (for those who lived through the mid '90s) this would not be a productive meeting, but only an anti-PSO gathering," Brown said.
Regenold addressed the rejection during the meeting.
"We believe that your reasons are flawed because they are not completely based on factual information," Regenold said. "If you have already decided how this will end you are not listening to your citizens."
Mark Woolbright, vice-president of the International Association of Firefighters, came from Washington, D.C., for the meeting. He called the PSO program a flawed and dangerous experiment.
"I'm not here to criticize. What we're here to do tonight is to offer some help," Woolbright said. "You don't have this type of showing when you're doing a good job. There's concerns here. This is a big deal."
Resources are available from IAFF for education, media and legal efforts, Woolbright said.
"What I would offer to you is to work with the International Association of Firefighters or law enforcement and get an outside, independent, third-party consultant expert and get some help when putting this together, so we don't have to use all of resources — which we're willing to do from Washington, D.C. — to bring out here to educate your folks," Woolbright said.
Council member at-large Rob Green said he shared some concerns about the program.
"I'm highly concerned that I can't tell residents what to expect public safety to look like in five years," Green said. "As residents and taxpayers, you deserve to know the city's answer to this, and your City Council has a clear duty to find out. Otherwise, the council risks abdicating its public safety responsibility to an unelected public safety director and effectively handing him a blank check."
Council member at-large Dave Wieland spoke in favor of the PSO program. He noted it was developed over several years in response to state funding cuts.
"Other communities in Iowa are going bankrupt because of the high cost of police and fire," Wieland said. "So the idea of public safety came from the people of Cedar Falls."
Several times the crowd erupted in applause for a speaker, and some speakers talked over city officials, causing Brown to bang his gavel to restore order.
In September five firefighters announced their resignations, two citing safety concerns as a reason for leaving. Four PSOs are being moved to full-time positions at the Fire Department to replace firefighters who left.
The outcry is part of an ongoing fight between Cedar Falls and the Firefighters' Union, residents and activists over the 3-year-old PSO program.
"Our city doesn't lie to you," Wieland said. "This council is willing to take a proactive stance, and we're the envy of other cities. We're also willing to take the heat for it, and we certainly are taking a lot of heat tonight."
Copyright 2018 Waterloo-Cedar Falls Courier
McClatchy-Tribune News Service