Ill. city fire stations deemed in 'critical condition;' need $7.6M in renovations
The report classified the Devon Avenue station as in "critical condition" and the Greenwood station as in "poor, nearly critical condition," with "major work" necessary to keep them operational
---
Jennifer Johnson
Pioneer Press Newspapers, Suburban Chicago
PARK RIDGE, Ill. — Park Ridge's top fire official is recommending renovations of the city's two fire stations after a study by an outside firm deemed them in "poor, nearly critical" to "critical" condition.
Park Ridge Fire Chief Jeff Sorensen told the City Council on Sept. 13 that of three options available for addressing the current and future needs of the fire stations, a complete gut-rehab of the fire stations, with small additions to the buildings, "offers the best value for the cost."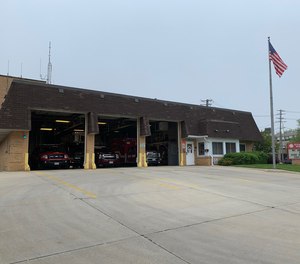 "We think this is the way to go," Sorensen said.
The recommendation comes following an assessment of the fire stations conducted by BKV Group, an engineering and architecture firm.
Renovating Fire Station 35, located at Devon and Cumberland Avenues on the city's south side, would cost an estimated $3.3 million, including design, the firm determined. To construct an entirely new building on the site would cost an estimated $7.8 million, BKV's report said.
Renovating Fire Station 36, located at Greenwood Avenue and Oakton Street on the city's north side, would cost an estimated $4.3 million, while building a new station on the site could cost $9.4 million, according to the report.
The total estimated cost for both stations is $7.6 million.
Station 35 was built in 1969 and Station 36 was completed the following year, a memo from Sorensen to the City Council said.
Aldermen did not object to Sorensen's recommendation, which is expected to undergo additional consideration during discussions of the 2022 city budget this fall.
"We obviously have to do something to bring the facilities up to today's needs and safety," said 5th Ward Ald. Charlie Melidosian.
Sorensen noted that renovating and expanding the buildings is considerably less costly than demolishing and constructing new stations and that it "allows us to modernize our facilities and protect the health of our employees."
The nearly 200-page report, which features a number of photographs of the stations, notes space deficiencies of 3,500 to 3,650 square feet in each fire station.
Sorensen noted that the stations do not have separate accommodations for female firefighter/paramedics, though no women are currently employed in these positions at this time.
"It just does not seem realistic the way we are currently housed," he said.
Rehabbing the buildings would also allow the fire department to better address cancer-causing risks for firefighters, he said.
"Every year we're learning more about cancer risk in the fire service, and the renovated buildings will do more to prevent it by addressing known concerns with firefighter gear and diesel exhaust," Sorensen said.
The report classified the Devon Avenue station as in "critical condition" and the Greenwood station as in "poor, nearly critical condition," with "major work" necessary to keep them operational.
"We're finding that the break-downs that happen at one (station) are then happening at the other," Sorensen told the elected officials.
Sorensen noted during the Sept. 13 City Council meeting that maintenance and construction work were performed through the years by fire department staff to keep down costs. After the city sold an administrative building that firefighters had rehabbed at 1212 S. Cumberland Ave., in-house construction projects ended, Sorensen said.
The department has also experienced a rising number in calls for service over the past several years, keeping staff busier, he said. August 2021, Sorensen noted, was the department's busiest August in its history.
Seventh Ward Ald. Marty Joyce, chairman of the City Council's public safety committee, said the next step will be for the council to budget money for design work in the 2022 budget.
If supported by the City Council, the design would be completed in 2022, followed by construction the following year at the fire station at Devon and Cumberland Avenues, Sorensen said.
Once renovation at this station is complete, work would begin on the station at Greenwood Avenue and Oakton Street, he said.
City Manager Joe Gilmore said the projects will likely be funded through bonds.
"That would be the preferred method to pay for this," he said.
When Joyce questioned if a referendum would be needed, Gilmore said the city can approve a bond issue without a referendum.
Joyce told the Park Ridge Herald-Advocate that a referendum could become part of the council's discussions.
"Personally, I don't think a referendum is necessary," he added, noting that the projects are much smaller in scale than building new facilities.
In the past, voters have not supported referendums seeking to replace city-owned buildings.
Two ballot questions asking if a new police station should be constructed at a cost of no more than $16.5 million were rejected by voters in 2009. In 2002, three advisory referendums related to replacing the Park Ridge Public Library with a new, $20 million building were voted down.
Voters in 2018 did support a $195 million bond referendum from Maine Township High School District 207 — which is a separate taxing and governing district from the city of Park Ridge — for renovations and expansion at each of the three high schools.
___
(c)2021 Pioneer Press Newspapers (Suburban Chicago, Ill.)
McClatchy-Tribune News Service