Ill. first responder accused of stealing from fire dept.
Michael Janusek allegedly misappropriated money from the Chicago Heights Fire Department's foreign fire tax fund
---
By Zak Koeske
The Daily Southtown
CHICAGO HEIGHTS, Ill. — A veteran Chicago Heights firefighter is accused of stealing government funds that were earmarked for his department, according to court documents.
Chicago Heights police arrested Michael Janusek, a 12-year member of the department who also serves as its EMS coordinator, on Jan. 25 after a month-long investigation, police chief Thomas Rogers said in a statement.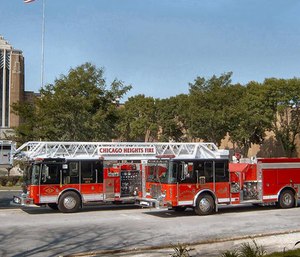 Janusek, 34, is charged with felony theft and official misconduct for allegedly misappropriating money from the Chicago Heights fire department's foreign fire tax fund, Rogers said.
The police investigation found that approximately $6,000 worth of merchandise purchased with fund money, which state statute says must be used for "the maintenance, use and benefit of the department," had not been authorized by the fund's board of directors, he said.
Janusek's attorney Robert Olson said his client denied any wrongdoing and was still in the dark about the allegations.
"We don't even know what the wrongdoing is," said Olson, who expects to learn more about the charges when Janusek appears in court in mid-February.
The South Chicago Heights resident is currently free on a $25,000 unsecured bond after being released from custody Saturday, court records show.
Olson said his client was a member of the Chicago Heights foreign fire insurance board, whose officers are responsible for spending the allotted foreign fire funds that Janusek is alleged to have stolen.
Foreign fire tax funds are derived from the insurance taxes companies outside the state pay to the Illinois Municipal League, which in turn distributes the money it collects to individual departments for use as they see fit.
According to state statute, the funds are supposed to be audited annually in order to verify that they were spent appropriately.
Illinois Municipal League executive director Brad Cole said he was not aware of the alleged theft of foreign fire tax funds and had no comment on the charges.
Janusek, who also worked part-time as a police officer in Crestwood, resigned his position there earlier this week after the charges were announced, Mayor Lou Presta said.
His status with the Chicago Heights fire department was not immediately known.
Copyright 2019 The Daily Southtown
McClatchy-Tribune News Service