Technology, training make Worcester firefighters safer
---
By Shaun Sutner
The Telegram & Gazette
WORCESTER, Mass. — When city firefighters these days practice how to rescue victims from burning buildings and how to protect themselves in perilous situations, they are taught the opposite of a common perception of firefighting.
They are training not to be heroes.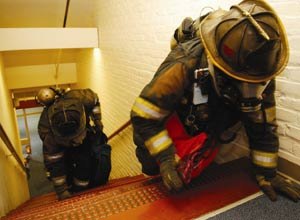 "One of the things we train them is 'don't hesitate,'" said District Fire Chief Walter C. Giard, who has overseen the Fire Department's training program for two decades. "If you think you're in trouble, you're in trouble."
Firefighters here and across the state have honed this modern outlook — one that puts a premium on firefighter safety as well as on simply putting out fires — in the 10 years since the Dec. 3, 1999, Worcester Cold Storage and Warehouse Co. blaze that killed six city firefighters who became trapped in the maze-like building.
While the Worcester Fire Department has been developing firefighters' technical skills at a new $2.1 million training complex, the department also has dramatically upgraded its technical arsenal.
From electronic firefighter tracking systems to bigger, more easily filled air tanks, stronger ropes, clearer radios and tiny thermal imaging cameras, the department has stocked up on the most advanced gear, thanks, in large part, to millions of dollars in federal, state and private grant money that has flowed to the city since the warehouse fire and the terrorist attacks of Sept. 11, 2001.
High-tech truck
The Fire Department's rescue group boasts a $300,000 high-tech rescue truck bought in 2005. The gleaming red truck is packed with tools from a $500,000 homeland security grant, including mega-drills that can bore through brick walls, and belaying equipment to dangle rescuers off roofs.
District Fire Chief Frank D. DeLiddo III, supervisor of the rescue group, also is the steward of a $400,000 truck with satellite communications capabilities. Housed in Worcester, it is one of six such special operations vehicles stationed around the state for regional disaster response.
After 9-11, while fire and police departments nationwide benefited from waves of homeland security funding, Worcester slotted into the highest tier of financial recipients as it was among the 120 biggest cities, District Chief DeLiddo noted.
"Once 9-11 happened, that was when the money for equipment upgrades to remedy all our shortcomings started to come in," he said.
Much of that money went to equipment. But just as important as the gear has been training the troops in how to use it effectively and safely, a task that District Chief Giard oversees from his office in the Fire Department's training center. The center has come to be known as the "Leary Building" after Denis Leary, the Worcester-bred comedian and actor, whose cousin Firefighter Jeremiah M. Lucey died in the warehouse fire.
The Leary Firefighters Foundation, in conjunction with EMC Corp. of Hopkinton, donated $1.5 million for the brick center, which includes two ample training classrooms, administrative offices, and, for the first time, bathrooms. The tiny training building it replaced had no plumbing.
"From where we came from, this is the Taj Mahal," District Chief Giard said. "It's more than adequate."
New burn building
Next door to the training center is a new "burn building." Built for $600,000, with half contributed by the Leary Foundation and half by the city, the four-story structure contains nine rooms that can be safely set on fire for training. It replaced an antiquated facility with one burn room.
The building also has become a regional training hub. Firefighters from nearly every community in Worcester County and many from outside the area have practiced at the burn building, one of the state's biggest.
Amid these improvements, however, at least one big thing is still lacking, noted Stephen D. Coan, state fire marshal.
While Worcester has a few dozen electronic tracking units that can keep tabs on firefighters' whereabouts in a building, and researchers at Worcester Polytechnic Institute and private companies are working on newer systems, the technology is still far from reliable.
"We can put a man on the moon, but we can't find a firefighter in a building," Mr. Coan said.
Overall, though, District Chief Giard said the Fire Department has overhauled its operations in the last decade.
Having met five years ago nearly all the recommendationsin a 2000 report on the warehouse fire response, the department has since tried to break new ground as well as stay abreast of the most up-to-date training procedures and technology.
"As opposed to 10 years ago, we're much better equipped and technologically sophisticated," District Chief Giard said. "We are always asking ourselves what can we do training-wise, practice-wise, equipment-wise, that might prevent this from happening again."
Further technology
The department now is in the midst of a gradual changeover to 45-minute air tanks, which will give firefighters an extra 15 minutes of air, along with a high-tech "heads-up" electronic display that lets users see easily how much air they have left.
At $5,000 per unit, it is an expensive upgrade, and it comes with a small drawback. The new tanks are actually a bit more cumbersome, but worth the extra weight because the extra time could buy someone's life, officials are convinced.
"It's progressive stuff," District Chief Giard said.
The Fire Department also has improved the tactics and equipment of its Rapid Intervention Team, which goes to each fire ready to find firefighters in trouble. New rapid intervention technology allows rescuers to nearly instantly refill the air tank of a downed firefighter.
One stark illustration of the technological gulf the Worcester firefighters have bridged is that 10 years ago they did not have a single thermal imaging camera, which allows firefighters to see fire and hot spots through thick smoke and walls.
They had to rely on a suburban fire department to bring one to the blaze. But it was too late.
Now the Fire Department is on its second generation of thermal imagers, which have shrunk from the ungainly computer-size models of a decade ago to hand-held units that can be attached to firefighters' turnout gear.
Copyright 2009 Worcester Telegram & Gazette, Inc.
All Rights Reserved