Information onslaught: Learning to focus and run command
A wind-driven structure fire posed many challenges, but we can learn from the good outcomes, too
---
FireRescue1 Unforgettable Calls is a place where firefighters across the country can stell their stories about the calls that have stayed with them, everything from the play by play of a mayday call to the memorable moment a patient thanked them for saving their life. If you want to share your story with the FireRescue1 community, please review our submission guidelines and email editor@firerescue1.com.
It was early March 2012, and our crew had a relatively quiet shift on a warm and very windy day. The winds and gusts had increased all day, melting snow across the area.
My shift was assisting with recruit firefighter training on a weeknight when we were paged to a structure fire report in a single-family dwelling.
This was my opportunity to run incident command – on one of my first structure fires. I had a few years under my belt, but riding in the officer's seat was still somewhat of a new experience.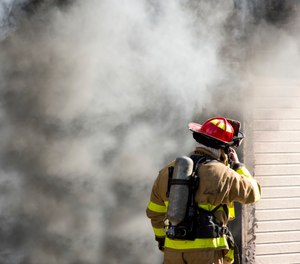 Heading to the scene – and trying to stay calm
We geared up and had a full crew of five people made up of on-duty staff and a couple of instructors jumping in as well.
As soon as we left the truck bay, you could see a black plume dominating the skyline, confirming that this would indeed be the real deal.
I notified dispatch to start our working fire protocol and tried to calm myself with some deep breaths. I realized I had an engine full of experienced people and had the presence of mind to start handing out some assignments. The distance from the station to the fire was relatively short, so we were on scene quickly, and it became apparent this wasn't a run-of-the mill small structure fire.
The wind was blowing, and the smoke plume was leaving the house horizontally, completely blocking any view of the rest of the street. With the garage completely engulfed in fire, heavy, turbulent black smoke emanated from every eave and roof opening in the house. It was readily apparent we were faced with a wind-driven fire fueled by two fully involved SUVs in the garage.
A brief conversation with the crew in the backseat confirmed that we would lead off with a 2½-inch line due to the volume of fire.
As they deployed the line, I gave my size-up: "Single-family dwelling with lightweight truss construction, fully involved. There's heavy, turbulent black smoke and fire from divisions Alpha, Bravo and Charlie, with fully involved vehicles burning in the garage."
My engine assumed command and started a 2½-inch line in a defensive strategy.
Stepping into reality
I stepped out of the engine onto the street. In that moment, as I was trying to comprehend the scene, is when I started to realize how much information you have to be capable of sorting through in a short period as an incident commander.
I had a significant fire with a smoke column moving horizontally across the road and obscuring the home across the street. A powerline was down and arcing its way across the backyard. The homeowner was heading my way, telling me the house was empty. I remember feeling relief that I didn't have to decide whether to make an entry, as I thought there was a slim chance of survival in the home at that point.
With the amount of fire, I decided that a defensive strategy was the best option. The house had taken so much damage that it was likely not salvageable.
I watched the crew deploy the line to the upwind side and enter the backyard to start fire attack on the garage. The driver and another firefighter were securing a water supply. I walked over to the crew in the backyard and grabbed their SCBA straps to make sure I had their attention. I told them about the powerline and to not approach any closer than a clothesline in front of us.
With the strategy decided, and my initial safety concerns handled, I took a moment to relay pre-arrival assignments to the second-due engine and the truck company that would be arriving shortly. The next-arriving crews deployed an additional line on the fire and spotted the ladder truck for possible master stream use. My chief officer arrived, and after allowing him a few minutes to survey the scene and operations, I turned command over to him and was released to assist with fireground operations with my crew.
New IC lessons
I learned a few lessons that have always stuck with me from this fire. It's an excellent example of learning from an incident that went well versus just focusing on learning from negative outcomes.
I learned the value of discussing assignments on the way to a fire. Even though we made some last-minute changes to the plan, having everyone on the same page helps calm the chaos on scene.
Using physical touch and a formal assertive statement worked to ensure that my warning about the powerline was received loud and clear. The use of a visible "do-not-cross point" also helped ensure that when the powerline was periodically not visibly arcing, crews would remain a safe distance from it and not be impacted by it.
Taking a moment to give pre-arrival assignments to responding companies also helped organize things. This resulted in fewer people needing to have a face-to-face when they arrived, thereby reducing the amount of attention I needed to divert from the fire.
I also learned how nice it was to have so many experienced people on the crew to backstop me while running one of my first fires. The level of experience went a long way toward ensuring the call went smoothly.
Learning from positive experiences
All of these were things I learned from an incident that went well. Focusing on learning from both negative and positive experiences and sharing those experiences ensures we can all learn from one another and build experience faster than if we try to go it alone. Share your stories today to allow another brother or sister firefighter to learn from your experiences.