Fire union says city's layoff structure is unfair
The New York union says the 14 firefighters who were laid off were not determined by seniority and were divided into two lists based on Spanish-speaking ability
---
Lana Bellamy
The Times Herald-Record, Middletown, N.Y.
CITY OF NEWBURGH, N.Y. — A City of Newburgh Fire Department union leader is denouncing what he described as a new structure for the impending layoffs of first responders on Dec. 31, but City Manager Joe Donat contends this method is the fair and right way to do business.
The 2020 city budget calls for 14 firefighters to lose their jobs at the end of the year. Brendan Hogan, president of the city's fire union, said they were delivered layoff lists the day after Thanksgiving.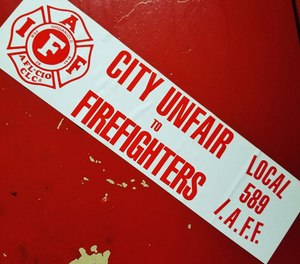 Instead of having one list that ranks all firefighters by seniority, Hogan said he was given two lists of who would be laid off: one with firefighters who took the Spanish-speaking fire service exam and another list with those who didn't take the test.
Firefighter Max Carrero, a fluent Spanish-speaking city resident who has worked at the NFD since 2014, is on the Spanish-speaking list of layoffs, but Hogan said if all firefighters were ranked only by seniority, Carrero's job would be safe.
Carrero has recently hired personal legal counsel to represent him in the layoff dispute, Hogan said, and has been advised not to speak to media.
"The main issue is they (city officials) are actually skipping over someone with less seniority and going to the Spanish-speaking list," Hogan said. "To me, it appears discriminatory. I've never seen nor heard of a Spanish-speaking firefighter list."
City police are facing the same situation with the two lists as they prepare for layoffs of 15 officers, but it does not appear to be a problem for them.
"I do know that our officers have separate civil service titles if they come off a Spanish-speaking list, but I'm not aware of anything being done wrong or inappropriate in regard to the eliminated positions within the PD," said Lt. Kevin Lahar, president of Newburgh's Police Superior Officers Association that represents the city's sergeants and lieutenants.
"The position is its own classification, has its own test and title," Donat said. "As such, it is its own unit of layoff. This is in accordance with NYS Civil Service rules and regulations."
Donat said he's not trying to point fingers at past administrations, but layoffs should have always been handled this way.
Donat met with city staff Tuesday afternoon to discuss issues surrounding the layoffs.
He expects to release news by the end of the week about ways the city might be able to save a few positions.
"It's all very fluid," Donat said. "It's expected that with a few retirements and a few instances of people moving to other departments, that positions are likely to be saved. It's just a matter of going through the process of officially determining which positions those will be."
Hogan said he has asked the city to hold off for a few days after the new year to see if a couple of jobs can be saved after the planned retirements of senior-level service members.
"I hope it comes to fruition and that they (the city) see the light of carrying a couple people for a couple days so it doesn't cost taxpayers more money to do this," Hogan said.
———
©2019 The Times Herald-Record, Middletown, N.Y.
McClatchy-Tribune News Service