CAL FIRE: Kincade Fire caused by PG&E equipment
The massive wildfire ravaged part of Sonoma County in 2019, scorching tens of thousands of acres and destroying 374 buildings
---
J.D. Morris
San Francisco Chronicle
Pacific Gas and Electric Co.'s power equipment ignited the Kincade Fire that ravaged part of Sonoma County in October, scorching tens of thousands of acres and destroying 374 buildings, state authorities announced Thursday.
The California Department of Forestry and Fire Protection said in a brief statement that PG&E transmission lines northeast of Geyserville were responsible for the blaze, which prompted massive evacuations and an intense firefight to protect Wine Country communities from destruction.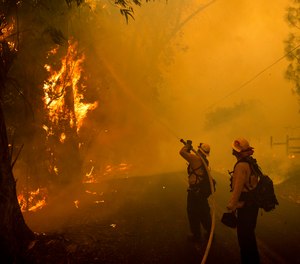 Cal Fire said it has forwarded its investigative report to the Sonoma County district attorney's office. The agency noted that "tinder dry vegetation and strong winds combined with low humidity and warm temperatures contributed to extreme rates of fire spread."
Nearly 78,000 acres burned in the Kincade Fire and four people experienced injuries that were not life-threatening. About 200,000 people fled the fire.
PG&E said it appreciates the "heroic" efforts of first responders who battled the Kincade Fire and prevented anyone from dying. The company said it was aware of Cal Fire's announcement but had not been able to review the agency's report or the evidence it collected.
"We look forward to reviewing both at the appropriate time," PG&E said. "We want our customers and communities to know that safety is our most important responsibility and that we are working hard every day to reduce wildfire risk throughout our service area."
PG&E previously estimated that the Kincade Fire could cost it more than $600 million, an amount the company said is at the lower end of possible losses.
Cal Fire's announcement comes a little more than two weeks after PG&E emerged from bankruptcy protection. The utility and parent PG&E Corp. filed for bankruptcy in January 2019 because of their responsibility for a series of other blazes, including the October 2017 firestorm that tore through parts of Sonoma County and nearby areas.
Survivors of the Kincade Fire are not among those who will share in a projected $13.5 billion fire victims' trust created as part of the bankruptcy.
PG&E power lines have long been the likeliest cause of the Kincade Fire because the company said while the flames were still burning that one of its high-voltage power lines malfunctioned right about the time and place the incident began.
The fire started the same month that PG&E implemented a historic series of intentional blackouts designed to prevent its power lines from starting catastrophic wildfires during dry, fast winds — as they did in 2015, 2017 and 2018. When the Kincade Fire broke out on the night of Oct. 23, PG&E had turned off lower-voltage lines in the area but kept a system of heavy-duty 230,000-volt wires energized.
The Kincade Fire marks the second time in recent years that PG&E's high-voltage transmission lines have been implicated in a major wildfire. In November 2018, a hook supporting a 115,000-volt PG&E transmission tower broke and led to the Camp Fire, which nearly leveled the Butte County town of Paradise. PG&E just pleaded guilty to 85 felony counts over its responsibility for the disaster.
Former PG&E CEO Bill Johnson discussed the company's likely role in the Kincade Fire when he was questioned by a 2017 Santa Rosa wildfire survivor at a regulatory hearing in late February. At the time, Johnson said that PG&E cannot stop all problems with its electrical equipment and "sometimes things just break." He noted that the tower at the fire's origin point had been inspected several times in recent years by qualified workers who determined that it was "fit for purpose."
J.D. Morris is a San Francisco Chronicle staff writer. Email: jd.morris@sfchronicle.com Twitter: @thejdmorris
———
©2020 the San Francisco Chronicle
McClatchy-Tribune News Service