Rapid Response: Winds push 'unstoppable vortex of fire' across Hawaii
While no fire department is ever fully prepared for such extreme conditions, we must constantly review and practice our response efforts
---
The state of Hawaii is facing unprecedented wildfires that have killed at least 36 people and destroyed or damaged more than 270 structures as of this Thursday morning.
Initial ignitions
On Tuesday, FEMA approved the state's request for federal assistance – a request that came about as the result of the Kahola Ranch Fire on the Big Island, the first of three major fires to strike the islands.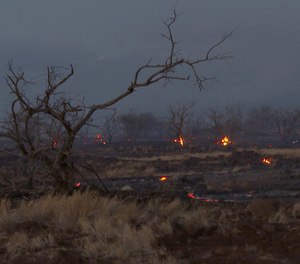 The original request for the Big Island indicated that the fire had consumed over 600 acres and was endangering 200 structures, including a fire department and multiple critical infrastructure components.
Maui devastation
While the Big Island of Hawaii initiated the original request for federal assistance, it is the island of Maui that has seen the most devastation within the past 24 hours.
On Maui, the town of Lahaina sits on the northwestern side of the island and has been bearing the brunt of downslope winds. Upslope winds would normally carry fires up the mountains and away from the towns, however these fires are being fed by a perfect storm of wind – high pressure winds from the north and east along with separate low-pressure winds from Hurricane Dora south of Hawaii. The combination of high-pressure and hurricane-force winds have created an unstoppable vortex of fire, where even aircraft firefighting cannot be sustained.
Evacuation seems to be the only option as of this writing.
More than 270 structures have been destroyed and at least 36 fatalities have been reported in Lahaina alone. Like many towns in Hawaii, Lahaina is a popular tourist destination and is densely populated where the mountains give way to buildable territory closer to the coast.
Big picture
As our wildland/urban interface areas continue to expand so does our risk. Any community could face an onslaught of this nature, and no fire department is ever fully prepared to fight in the conditions being experienced in Hawaii. Firefighters are certainly doing the best they can to evacuate neighborhoods and protect what they can protect.
The state's separation from mainland resources complicates firefighting and relief efforts. While we certainly will support any need from the state of Hawaii, answering those calls with deployable resources will not be easy.
What's next
We haven't even begun to address cause and origin questions – that will come in time. The ramp up of resource requests and deployments has begun in earnest and will continue until firefighters can determine what is savable and salvageable.
We will continue to monitor conditions and provide updates. In the meantime, for those departments not currently engaged, remember to review your own preparedness plans and practice your responses for such a catastrophe. From firefighting to evacuation planning and interface with emergency management, use this incident to learn, practice and grow your own preparedness.
I've experienced this myself – a fire that burned over 1,200 acres and destroyed 25 structures – within five miles of Washington D.C. If it can happen there, and in the paradise of Hawaii, it can happen anywhere.