Why are civilians fighting wildland fires?
The dynamics of civilian, inmate and professional firefighters evolve as changes to prison systems leave a shortage of volunteers to fight wildfires
---
By Shannan Mills, FireRescue1 Contributor
In 2016 alone, a total of 67,743 wildfires burned a staggering 5,509,995 acres. Wildland firefighters play a huge role in controlling these blazes and protecting ecosystems and nearby towns from further damage – yet professional wildland firefighters can't combat fires alone.
Inmates have long helped in the effort to suppress wildfires through training programs, however, recent changes in the prison system have now led to a shortage of available volunteers. So where do wildland firefighters turn for new recruits?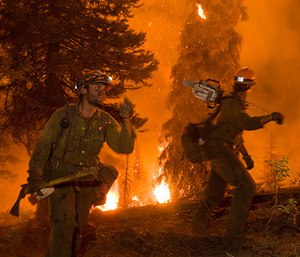 Following our nation's history of relying on our everyday citizens in times of crises, the civilian wildland firefighter has become critical to wildland firefighting efforts.
The first volunteers
During the Great Depression, President Franklin Delano Roosevelt launched the first Civilian Conservation Corps. By taking advantage of enthusiastic civilian support, the CCC was able to employ 3 million young men to work on conservation projects between 1933 and 1942.
The CCC inspired future civilian participation efforts in the years to come. During the Vietnam War, Governor Ronald Reagan created the California Ecology Corps, allowing conscientious objectors to perform public service instead of being drafted. In the 1970s, California Governor Jerry Brown further developed this initiative by creating the California Conservation Corps to protect the land.
Although the California Conservation Corps celebrates its 40th anniversary this year, it faced budget cuts and closures at the turn of the century, making it difficult to maintain the numbers needed to fight the wildland fires across the nation. Another source of support was required.
The role of firefighter inmates
Training inmates became a major, cost-effective solution to helping professional wildland firefighters. In states like California, for example, over 4,000 inmates are assigned to work in fire camps. The program is reserved for low-security inmates, or high-security designations who have worked their way down the security levels through good behavior. Responsibilities range from clearing brush to actually helping fight the blazes for $2 a day – saving the state around $80 million each year.
In addition to providing much-needed resources to fire-prone states, prisoners themselves have said that helping fight wildland fires has been a positive experience. Due to the low-security requirements, the popularity of the program acts as motivation for good behavior. Being in nature and subjected to fewer restrictions on the job is highly appealing to inmates, who wait for years to join the firefighting programs in some instances.
Despite the benefits to both the wildland firefighting efforts and the prisoners themselves, inmate resources have shrunk over the past several years. In 2011, the Supreme Court ordered California to reduce the total number of inmates in its overcrowded prisons by over 30,000 inmates. As low-risk prisoners are the most likely to be released, the reduction has lowered the number of available wildland firefighting participants. Not only that, but a federal court ruling expanded an early-release program that was previously reserved for inmate firefighters, which has left less incentive for prisoners to volunteer at the fire camps.
With this valuable resource of inmate wildland firefighters strained, professional wildland firefighters had to look elsewhere for help.
The rise of civilian wildland firefighters
Last year, as California found itself 600 inmates short of the 4,300 prisoners that could be available for fire lines, the California Conservation Corps reopened a training camp for young civilians. The program includes three units of civilians aged 18 to 25, with military veterans eligible up to the age of 30. Participants enlist for one year, take on the same responsibilities as inmates, and are paid the state's minimum wage.
Like the prisoners, participants enjoy many benefits of being a part of the Corps program. They are attracted by the opportunity to work in nature, and some see it as a stepping stone to becoming a professional firefighter, with the potential to be hired by Cal Fire directly. Yet for some, the sheer adrenaline of fighting massive blazes is enough.
The program is expected to expand over the next few years, with plans to create four more units by this summer and six more for each of the following two summers.
Nationwide civilian firefighter participation
Civilian firefighting programs aren't limited to the state level. The U.S. Forest Service Job Corps Civilian Conservation Center is a 50-year-old program that aims to help youth out of poverty through vocational training. In 2016, the JCCCC launched its Wildland Fire Training program.
The program was inspired by North Carolina's Schenck Job Corps, which started recruiting for the advanced fire management trade program in 2007. JCCCC's program involved a partnership with its Fire and Aviation division and involves the following four elements:
1. Create wildland firefighter type 2 crews at every JCCCC location.
2. Fund a Wildland Fire Operations Specialist position at every location to host the programs at area National Forests.
3. Fund equipment, supplies and vehicles.
4. Establish a second fire management training program for the western location of the Forest Service Job Corps.
The program now extends across all 26 Job Corps Centers and has already seen impressive results. Participants have helped out on 285 assignments, spanning more than 5,800 acres of land and totaling nearly 3,100 days of work, and a WFO and a fire or camp crew have been placed at every Civilian Conservation Center.
In 2015 alone, more than 1,000 students received their firefighter and camp crew qualifications, or red cards. This means that more trained wildland firefighters will be entering agencies, as well as county and state fire departments to help fulfill the nation's firefighting needs.
Not surprisingly, the JCCCC's Wildland Fire Program was named Corps Network's 2017 Project of the Year.
Pulling together to fight wildfires
Fighting wildland fires benefits everyone involved, from the nearby residents, to prisoners in need of a purpose, and budding young firefighters. But in times of change or crisis, wildland firefighting efforts are often affected. With an interest in protecting their compatriots and their country, civilians are our nation's great resource – and valuable support for our brave wildland firefighting professionals.
About the author
Shannan Mills is division manager for National Fire Fighter Wildland Corp. Mills focuses on helping the company best serve the wildland firefighters who protect our lands and homes and growing the wildland firefighting market.