NY volunteer FF-EMT critically injured in crash responding to call
The Parishville Volunteer Fire Department firefighter-EMT was reportedly responding in his personal vehicle when he crashed into a tree
---
By Laura French
PARISHVILLE, N.Y. — A New York volunteer firefighter-EMT was critically injured while responding to an emergency call in his personal vehicle Tuesday afternoon. 
Parishville Volunteer Fire Department Chief Ed Cool said the firefighter-EMT, whose name has not been released, broke several bones in the single-vehicle crash but is expected to survive, according to NNY360. Cool says it appears the firefighter-EMT had swerved to avoid another vehicle, causing his own vehicle to spin and crash into a tree.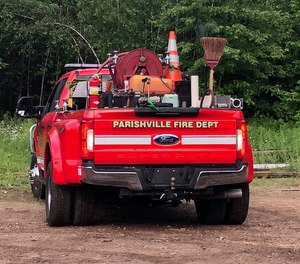 The firefighter-EMT was driving his personal vehicle at the time of the crash, St. Lawrence County Emergency Services Director Matthew Denner told WWNY. He was reportedly in stable condition after surgery Wednesday morning. 
Parishville Volunteer Fire Department crews were responding to a call about a person having difficulty breathing at the time of the crash, and Cool says the firefighter-EMT had been on his way to the station to pick up some equipment before joining the other crewmembers. First responders headed to the original call came upon the crash scene and dispatched another ambulance to aid the original patient.