Officials: Passenger burned to death in wreck after driver said she was alone in car
Firefighters found the passenger's body after the driver reportedly told bystanders who helped her that no one else was in the car
---
Wayne K. Roustan
South Florida Sun Sentinel
DEERFIELD BEACH, Fla. — Firefighters found Andrew Alvarado's body in the charred wreckage of a car that police say hit a utility pole at more than twice the posted speed limit. Alvarado did not die in the crash, but in the fire that sparked after the impact, according to the medical examiner.
According to investigators, the woman behind the wheel — Stephanie Binger of Deerfield Beach — was helped out of the vehicle after the crash by good Samaritans. When they asked her if anyone else was inside the car, she said no, authorities said.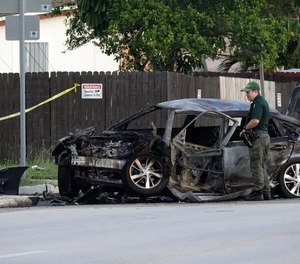 "My client is a single mom with two children," said her attorney Ken Padowitz. "She's a very responsible person."
Binger, 34, is now facing a vehicular homicide and a DUI manslaughter charge as a result of Alvarado's death. Her blood-alcohol level tested at 0.15, more than twice the legal limit of 0.08, when she was checked out at Broward Health North medical center after the crash, the report stated. She told doctors there that she had had "multiple Tito's," a vodka drink.
The accident happened just before 6 a.m. on Nov. 10, 2019, as Binger was driving north in the 4200 block of Northeast Third Avenue in Deerfield Beach. The 2013 Nissan Ultima crossed into the southbound lanes, jumped the curb, drove along the sidewalk, then struck a concrete utility pole, knocking out power to the surrounding neighborhood, the arrest report stated. The car caught fire after the crash.
Investigators say Binger was driving at 62 mph in a 30-mph zone, and there was no evidence of skid marks to indicate any attempt to swerve or brake.
Alvarado, 33, was a resident of Pompano Beach.
Binger was arrested Tuesday on charges of DUI manslaughter, vehicular homicide and reckless driving. She was in the Broward County Jail Thursday on bonds totaling $235,000.
"We entered a plea of not guilty and I'm in the process of doing a complete investigation and we're going to fight to make sure justice is done in this case," Padowitz said.
Relatives of Alvarado and Binger could not be reached for comment.
___
(c)2021 the Sun Sentinel (Fort Lauderdale, Fla.)
McClatchy-Tribune News Service