Ore. firefighter charged with domestic violence against infant
Kevin M. Howard, Jr., 31, a 12-year firefighter veteran, is charged with first-degree misdemeanor domestic violence against a 2-month-old child
---
Allison Dunn
The Blade, Toledo, Ohio
OREGON, Ohio — An Oregon firefighter is on administrative leave following a domestic violence incident involving an infant, city officials said. 
Kevin M. Howard, Jr., 31, is charged with first-degree misdemeanor domestic violence. He's accused of assaulting a 2-month-old child.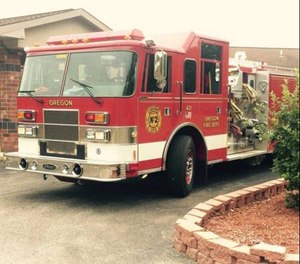 Mr. Howard allegedly struck the infant with a closed fist in the chest. He then grabbed the baby by the jaw with a "claw grip" and jerked his head because he was crying, according to an affidavit filed in Oregon Municipal Court. 
"It was just a misunderstanding," Mr. Howard told The Blade on Monday. 
Oregon interim Fire Chief Denny Hartman said Mr. Howard has been employed as a firefighter/EMT with the part-time department since Nov. 13, 2007. Chief Hartman said the firefighter is on unpaid administrative leave with the pending charges. 
The incident occurred around 7 a.m. April 3 at Mr. Howard's Ansonia Street residence and the child's mother witness the event, according to court records. Oregon police were notified by Lucas County Children Services at approximately 10 a.m. April 4 about a domestic violence case. 
Kevin Milliken, Lucas County Children Services spokesman, said it is standard protocol for the agency to contact law enforcement following an incident, though he could not comment on how the agency was notified. Mr. Milliken could not comment on the infant's condition, noting the ongoing investigation. 
Mr. Howard was arrested by Oregon police at 9:45 a.m. Friday at the police station.
Mr. Howard appeared in Oregon Municipal Court Friday with a public defender and pleaded not guilty. Judge Louis Kovacs issued an own recognizance bond and granted a temporary protection order.
A prosecutor pretrial was scheduled for April 23. 
Mr. Howard was formerly employed as a part-time police officer in 2013 in Fayette, Ohio, located in Fulton County approximately 45 miles west of downtown Toledo. He moved to a full-time position, but then left shortly after, said Fayette Police Chief Jason Simon. 
———
©2019 The Blade (Toledo, Ohio)
McClatchy-Tribune News Service