Conn. town offers quarterly payments to attract volunteer firefighters, EMTs
The town's Volunteer Firefighters' Relief Program will now pay volunteers every three months instead of paying a lump sum once a year
---
Sten Spinella
The Day, New London, Conn.
MONTVILLE, Conn. — The town of Montville is trying to attract and maintain more volunteer firefighters.
During Dec. 9's Town Council meeting, councilors amended the ordinance that established the Volunteer Firefighters' Relief Program. Instead of volunteer firefighters being paid a lump sum yearly, they now will be paid quarterly.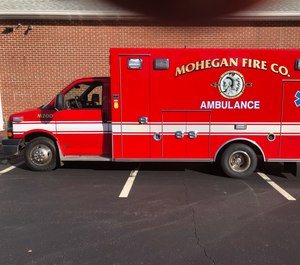 Town Councilman Lenny Bunnell said during the meeting that in November, the fire department had 271 calls for service, but "they had to rely on four different occasions for outside agencies to respond because we were unable to."
Former Chesterfield Fire Company Chief Steve Stewart encouraged the Town Council to adopt the amendment "as a way of incentivizing the volunteers and to support their efforts with engaging additional residents to volunteer," according to the meeting minutes.
Councilors, and Mayor Ron McDaniel, agreed.
McDaniel recognized that the amendment doesn't fundamentally alter the system the town already has in place.
"The main change in this amendment was instead of paying them annually, they're going to get paid quarterly," he said. "We're hoping that will incentivize the guys and gals to come on calls more often. What we're trying to avoid is people going on calls at the end of the year to get all their points and everything up to date."
Firefighters, such as Montville Fire Company Chief Ron Turner, and town officials are hoping this more instant gratification will be appealing for volunteer firefighters to either come aboard or maintain their service. McDaniel mentioned firefighters likely would appreciate receiving a sum of money before Christmastime, for example.
Town Councilor Billy Caron and McDaniel said the Volunteer Firefighters Relief Committee has been discussing the possibility of this amendment for months. The committee brainstormed ways of increasing volunteerism.
Now, McDaniel said, firefighter 1s who double as emergency medical technicians, a higher classification than plain firefighters, will receive $375 every three months rather than $1,500 all at once. Firefighter 1/emergency medical responders would make $1,200 for the year, firefighters/EMTs $1,200, firefighters/EMRs $900, EMTs $900, certified fire police $900, firefighter 1s $900, firefighters $700 and EMRs $700. Volunteers would have to work a full year to receive the full sum, which would be divided into four equal payments for the four quarters.
Oakdale Fire Chief Micah Messer said Montville's fire chiefs initially approached town officials with the idea. Beyond enticing volunteers to stay or join, he said the amendment will help volunteers who aren't around all year. Volunteers in departments with annual calls exceeding 500 need to make 15 percent of calls to be eligible for pay — with the amendment, instead of that being a 15 percent threshold for the year, it's 15 percent for the months they are able to volunteer.
"We have some people that come up for the summer, or during the summer they're busy but in the wintertime they're not as busy," Messer said. "Let's say this guy is busy during the summer but in the winter he makes 15 percent from January to March. The town has adjusted it where you can make that little bit of money for two quarters, or what have you, if you can't work the full year."
Messer said the next possible step for the town could be to enact some sort of retirement package. Perhaps, he said, firefighters could end up with a couple hundred dollars a month when they get to their 60s. The initiative isn't fully formed yet, and Messer said the town/chiefs want to phase in ideas like this slowly rather than all at once.
Caron said the amendment is a good example of what can happen when the town works closely with its fire chiefs.
"We were trying to restructure it so it would look better for our volunteers," Caron said. "I'm hoping to work more with the chiefs in the near future."
In April, The Day reported that Montville "recently altered a long-standing practice employed by many fire companies across the state, telling volunteer firefighters who also work paid part-time shifts that they cannot serve the same firehouse in both paid and volunteer capacities." The Fair Labor and Standards Act keeps town employees from volunteering for the same company they're employed by.
At least eight volunteer firefighters also have worked part-time shifts in recent years. Montville, Waterford and other towns have faced questions about labor laws and staffing issues related to this practice.
———
©2019 The Day (New London, Conn.)
McClatchy-Tribune News Service