Conn. town sued after paid FFs barred from volunteering as EMTs
A volunteer fire company is suing the town of Salem after two paid firefighters were barred from volunteering for the town's sole ambulance service
---
Greg Smith
The Day, New London, Conn.
SALEM, Conn. — The Gardner Lake Volunteer Fire Company has sued the town of Salem, fallout from stalled negotiations over how the department's volunteers are compensated.
The department seeks to recover nearly $29,000 it says it needs to run the town's only ambulance service when paid personnel are not on duty. The funding drought is connected to the ongoing dispute over First Selectman Kevin Lyden's decision last year to bar its two paid firefighters from also serving as volunteers.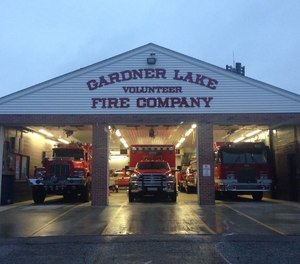 The suit could have implications for other towns seeking to adhere to federal labor laws and volunteer departments like Gardner Lake who claim they are independent agencies and not subject to the law. Most towns in eastern Connecticut cannot afford fully paid departments and rely on volunteers.
Gardner Lake Chief James Savalle, a paid firefighter/EMT who has volunteered in town for decades, was sidelined from his volunteer work as a result of that decision. The town also is fighting his workers' compensation request stemming from an on-duty injury, part of what members say has suddenly become a contentious relationship with Lyden.
Savalle works for the town as a paid firefighter on weekdays and volunteers on weeknights and weekends.
Lyden obtained a legal opinion from a labor attorney last year that he says convinced him the town's practice of allowing paid employees to also serve as volunteers for the town was a clear violation of the federal Fair Labor Standards Act.
Gary Murphy, former chief and now president of the Oakdale Volunteer Fire Department in Montville, said there was a similar directive from his town to the various volunteer departments that has barred members from both volunteering and working paid shifts. He also disagrees with the town's interpretation of the law.
Among other provisions, the FLSA says employees of a public agency cannot volunteer to provide their employer the same services they are being paid to perform. Salem is one of several towns, including Montville, Preston and Waterford, that in the past several years have reassessed their mix of volunteer and paid services in the face of rising call volumes and need for more paid staff.
Some municipal leaders have argued that volunteers working as paid staff not only violates FLSA but potentially leaves the towns open to wage liability, claims of overtime compensation for hours worked by the paid employees also acting as volunteers.
"This has been percolating for a while," Lyden said. "We have to do it correctly. And like many municipalities, we were doing it incorrectly. You can't volunteer in your own town. You can still be a social member (of a volunteer fire department) but you can't do the same type of work. Every municipality has had to get on board with this."
In May last year, Lyden issued a notice that Savalle should cease his volunteer activities or face discipline or termination. It caused an uproar among department members who recently signed a letter arguing Lyden was "using a minor FLSA wage issue as a pretext to take control of the volunteer fire company," and needlessly jeopardizing emergency services in town during a time they are most needed.
"I don't have any desire to take over the fire company," Lyden said, adding that he values the work of volunteers but must abide by law.
Attorney Jacques Parenteau, who represents the Gardner Lake Volunteer Fire Company in the lawsuit pending in New London Superior Court, argues that Salem is misinterpreting the law in Gardner Lake's case.
The Gardner Lake Volunteer Fire Company is a nonprofit incorporated in 1956, owns its own building, has its own bylaws and board of directors and, while it relies on some town funding, it provides emergency services as an independent corporation and not a public agency or town department.
As a result, Parenteau said federal case law supports the contention that Gardner Lake is not a "public agency" under the FLSA.
To clear up any potential conflicts with the FLSA and "joint employer" issues, Gardner Lake volunteers in August ceased accepting wage payments directly from the town and instead asked the town to compensate the department from already budgeted funds and allow it to reimburse its EMTs to man the ambulance with stipends.
Volunteer EMTs had been submitting timecards to the town for hours worked and on-call shifts and the town was submitting W-2s.
"The submission of timecards and the direct payment of the volunteers by the Town of Salem was the only significant factor that required modification so as to avoid any possibility of a FLSA violation," the suit reads.
The new payment system, part of a revised emergency services agreement proposal, had been the subject of ongoing discussion with the town's part-time fire marshals but never formally approved by the Board of Selectmen. Gardner Lake members say Lyden has refused to participate in those negotiations.
Gardner Lake is calling for payment of $28,990 for the period covering September through February, or $30 and more recently $40 per volunteer working each 6-hour on-call shift. The $40 per shift, instituted in January, matches what volunteers are paid at the Salem Volunteer Fire Company, the town's other volunteer fire department.
In a letter to the editor to The Day, Gardner Lake volunteers say it will be forced to use its own funds set aside for the purchase of a new ambulance to continue to pay stipends for its members.
———
©2020 The Day (New London, Conn.)
McClatchy-Tribune News Service