Ind. firefighters spruce up local park
Gary Firefighters Union Local 359 and the Gary Fire Department partnered with the Gary Parks Department to host a park clean-up Friday and Saturday at Buffington Park
---
Emily Schnipke
The Times, Munster, Ind.
GARY, Ind. — Gary Firefighters Union Local 359 and the Gary Fire Department partnered with the Gary Parks Department to host a park clean up Friday and Saturday at Buffington Park.
The park, located at 7th Avenue and Connecticut Street, was in desperate need of a "rehab," said Jimmy Siciliano, secretary of Gary IAFF Local 359.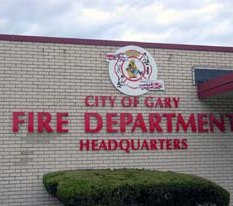 "A lot of stumps, overgrown grass and weeds, a lot of the trees haven't been trimmed in probably a decade, I imagine," Siciliano said. "The splash pad is overgrown. I don't think that's been in use for multiple years."
The organization cleared branches, trimmed trees, hauled away dead trees, cut the grass and repaired park fixtures. Buffington Park was selected as a starting point by the city for the union.
A World War II memorial stands in the park and Siciliano said the group wanted to fix that up as well. The memorial was built three months after the conclusion of the war with the names of 1,013 service men and women from Gary's East Side carved on both sides.
Sean O'Donnell, the union's president, and trustee Shawn Hendron spearheaded the project by getting into touch with the Gary and the parks department. Siciliano also said they had several company sponsors involved with the project. Target Truck Rentals, Krooswyk Construction, Sanchez and Napoles Tree Removal and Newcomb Landscaping all donated the use of equipment or materials for the project.
"This was going to start as lawn cutting and tree trimming and now its turned into a huge thing with landscaping companies," Siciliano said. "Trustee Hendron... really wrangled up a lot of support from these communities, even outside of Gary, too."
Buffington Park has had a troubled history with vandalism. In 2012, the park had fences tossed, plants ripped out, signs set on fire and the playground scorched and partly melted, undoing $4,000 worth of repairs Gary residents made. The park was restored once again by the Gary community a month after the destruction.
Siciliano said the new union leadership is motivated to do more for the community and the project is the first of more services to be done by the union.
"That's something we've been trying to (do) a lot more with our local, a lot more public outreach and get more involved with the community," Siciliano said. "We're trying to get ourselves back out there and make a good name for ourselves and have a good relationship with the city and the citizens we serve."
———
©2019 The Times (Munster, Ind.)
McClatchy-Tribune News Service