Q&A: Preparing volunteer firefighters for a shift to a combo department
Communication is key to helping career and volunteer firefighters be champions for a change that is ultimately good for service, the community and the department
---
One of the biggest challenges for any fire department lies in recruitment and retention. This challenge is felt even more acutely in volunteer and combination departments. Mishandling a transition from volunteer to combination staffing can lead to an exodus of trained, qualified firefighters.
We sat down with Chief Dan Eggleston, EFO, CFO, CMO, to get his perspective on creating a unified combination fire department. Eggleston began his fire service career in 1978 and is currently the career fire rescue chief with the Albemarle (Va.) County Department of Fire Rescue, a combination department that serves a 723 square mile urban/rural area.
Eggleston also serves as the second vice president with the International Association of Fire Chiefs, and as a Commonwealth of Virginia Department of Fire adjunct fire instructor. Here's what he had to say.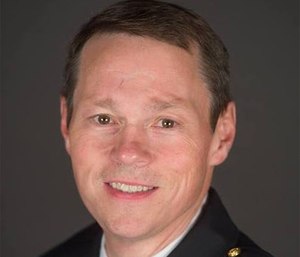 FireRescue1: What are some of the biggest challenges in merging into or becoming a combo department?
Chief Dan Eggleston: Probably one of the biggest challenges is just the change itself – moving from an all-volunteer department to a combination is a big change for any department. It's a change in direction. It comes with a lot of emotions and it comes with significant change that has people question where they are going to be in the organization. It's going to be different. I'm not sure where my value's going to be placed now that we have people doing part of my job now. So that's probably the biggest thing, that there's change and emotions that go along with the change.
I would say in addition to that, there's this process of professionalizing departments and what I mean is when you hire career staff and they're now in your station, there's certain duties and responsibilities that come along with that that tend to professionalize the way of doing things and that's another change that sometimes people don't necessarily embrace. Sometimes they buck, and sometimes it even divides the two groups. You'll have some rules that apply to the career staff and some that apply to the volunteers, and that creates this division.
How can fire chiefs mitigate the growing pains of change?
There are certain ways to minimize it. Communications is one of those – involving career staff and volunteers, and helping to establish what this new department is going to look like (i.e., how we're going to make decisions, what are our priorities?).
It's almost like going through a strategic planning process to determine what as an organization we're going to work on first and then create a government structure that allows participation from both career and volunteers to make those really vital decisions so the people feel they've got a stake in where the department is going (versus being a victim of change, rather step up and be a champion of change, a champion for things that are meaningful).
You can still have some of the things that make it a great volunteer department, but at the same time, understand that that transition to a career department is a good thing for service, is a good thing for the neighborhood and it's also good for the department.
What is the biggest fear from volunteers during a department shift?
Well I think some of the biggest fears are that they're going to be pushed out, that their positions are going to be minimized and they're going to be left behind. A lot of volunteer departments have multiple generations in their department, some people give their own personal money and have lots of investment in that department from time and even financial investment, and it's a loss.
It's almost like people go through a grieving process when they think all that investment is now going to be potentially threatened and changed. People sometimes grieve. They get angry. They sometimes just leave. Helping people work through all those feelings and helping them understand they have a position at the table to help define what this department's going to look like in the future is important.
How can you lessen the emotional turmoil involved from an administrative standpoint?
Volunteers joined the department from the point of view that they like to help other folks, so if you still create those activities where volunteers can participate in supporting a cause and serving the community, then that's great.
Frequently, departments hire career staff because there's a gap to fill where volunteers are unavailable, but if the volunteers can come down and ride the apparatus and participate alongside the career staff, then that addresses the fear of not being able to serve their citizens.
So I highly advise that you mix crews, you create this team environment with both career and volunteer, and you create opportunities for people to do what they stepped up to do, volunteer or career. Most people joined the service because they like helping people. They like the idea of being called to a chaotic situation and bringing it under control and leaving it better than they found it.
If a department has transitioned to combination and you find resentment brewing, is there a way to salvage the situation?
Yes, I think so. I tell people to start small. Have dinner together. Training is a great opportunity for folks to work alongside each other. A lot of training in the fire departments is the same thing as teambuilding, so create opportunities for those shared experiences. Let the volunteer and career staff work together and even get to know each other personally, and I think over time, they'll find out that they're really not that much different.
Create opportunities for them to reconcile their differences. A lot of chiefs need to step up and be leaders and be the facilitators of the groups, and help facilitate a win/win and not a win/lose situation. I know that sounds a bit cliché, but a lot of times, people think that just because the career staff did something, that it's a loss for the volunteer staff and vice versa. It's not. It's a focus on what's good for the citizens and not what's good for the individual.
What's your No. 1 tip for smoothing departmental change?
I often tell people, if you're thinking of transitioning from volunteer, start earlier than you would have to and involve the people, and never leave any detail out, because it all really matters in the end. Most of the time, when you take your time and over-communicate and you involve the people, you're more likely to come out with a better outcome. I've seen so many people wait until the bitter end and then they need to bring this change on quickly and that usually causes lots of trouble.