Residents of NY town want FD siren turned off
Residents argued firefighters had no problem responding to calls in the seven years the siren was previously turned off for repairs
---
Kathleen Moore
The Post Star, Glens Falls, N.Y.
QUEENSBURY, N.Y. — Residents are again searching for a way to replace the Central Queensbury Fire Department's siren.
The siren, needing repairs, was silent for seven years. By the time it was turned on again, new residents had moved in, and the neighborhood did not welcome the daily — and nightly — wails.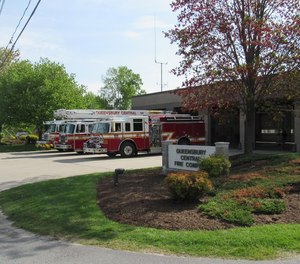 But most volunteer fire departments use sirens. Other stations in the area, including other Queensbury departments, use sirens. Many of them reported that they turn them off at night. Central Queensbury did not turn its siren off at night immediately after it was repaired but later did so in response to neighborhood complaints.
Other fire departments reported they also use pagers and cell phones, but those are not foolproof. The Easton Fire Department noted that pager and cell phone batteries die and the devices can be left inside while the volunteer firefighter is outside. In addition, the siren can help with traffic control as volunteers race to the station then hurry to the emergency.
Still, Central is in a densely settled area, and after the issue was raised at Monday's Town Board meeting, board members said they wanted to find a less intrusive way to notify firefighters.
Residents noted the department didn't miss any calls while the siren was off.
Neighbor Roman Jarosh said it was "a little disingenuous" to claim the siren was needed to notify firefighters.
"That siren was turned off and silent for 7 years. The Fire Department had a 100% response rate," he said. "It's turned off 9 p.m. to 9 a.m. But the response rate is still a fantastic 100%."
That led him to only one possible conclusion, he added.
"So, there are other means. There is no need for the siren now," he said.
He played the siren during Monday's meeting. It drowned out all conversation.
Several other neighbors also came to the meeting to express their concerns. They asked the board to withhold the next contract with the department until firefighters agree to turn off the siren.
"We want this not to be a vote against our volunteers but a vote for our quality of life in our neighborhood," Jarosh said.
The board unanimously approved the contract.
Supervisor John Strough seemed to dismiss the concerns.
"I know, I know," he said, interrupting Jarosh at the start of his statement.
Later he said he had looked for quieter sirens, but none are available.
"They were all pretty intrusive. The decibel levels were the same," he said.
Neighbors said cell phones should be more effective, particularly since a text could also include an address so the volunteer could go directly to the emergency. Volunteers responding to the siren have to go to the fire station first.
Board member Amanda Magee focused on whether a siren was helpful in today's modern world.
"What did you do during the seven years" that the siren was off, she asked. "How is that possible?"
Fire Department President David Rainville said the siren was essential and that a majority of volunteers voted to keep it.
As for how they notified volunteers about emergencies for seven years without it, he said, "I'm not sure."
But he added that he had already turned off the siren at night and reduced the length of the noise during each blast.
"I've already dealt with this for quite a few years," he said.
Magee said she would research other forms of notifying volunteers rather than looking for a quieter siren as the Town Board did in 2018.
"A siren would be too disruptive," she said. "Can it be done without a siren? It seems very antiquated to say cell phones are not reliable. I would love to commit to finding a way to resolve that."
Board member George Ferone agreed.
"I hear it distinctly. I can't imagine" living next door, he said.
Strough said it was worth investigating.
"Times have changed," he said.
But any change might not have the support of the firefighters.
The "vast majority" want the siren instead of any other method of notification, Rainville said.
"It seems to be the best fit for us," he said.
———
©2020 The Post Star (Glens Falls, N.Y.)
McClatchy-Tribune News Service