Volunteers sought for new Ga. county Fire Citizens Academy
Under the Fire Citizens Academy, a person who wanted to volunteer with Baldwin County Fire Rescue would not have to be a certified firefighter
---
Billy Hobbs
The Union-Recorder, Milledgeville, Ga.
BALDWIN COUNTY, Ga. — It's never been attempted before in Baldwin County, but county fire officials believe it's not only a good program but one that will be well received within the community.
The new program is called Fire Citizens Academy.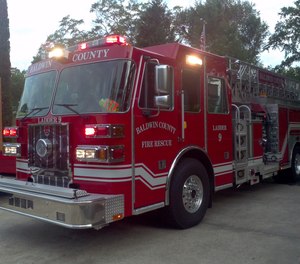 As it stands volunteers must be certified firefighters, but under the Fire Citizens Academy, a person who wanted to volunteer with the county fire department would not have to be a certified firefighter.
"You can simply be a volunteer," said Capt. Sheri Kneip. "We want to first find people who want to know and learn more about the fire department. That's the first piece of launching this new program."
Kniep, who is spearheading the new volunteer program with the approval and support of Baldwin County Fire Chief Victor Young, had hoped to launch the new Fire Citizens Academy on June 1, but because she wasn't able to find enough volunteers that effort has now been put off until later in the month.
"I'd like to have 20 volunteers sign up for this new program," said Kneip during a recent interview with The Union-Recorder. "If we can't get 20 to sign up for the program, we will work at trying to get a minimum of 10 volunteers."
Anyone interested in becoming a volunteer with the new program, which will be overseen by Kneip, has to be at least 18 or older.
Volunteers can be retired, semi-retired or gainfully employed.
"What we're going to do with this program is simply introduce them to the fire department," Kneip said. "This is who we are; and this is what we do."
Once they have completed the new Fire Citizens Academy and they mention they would like to stay on with the fire department as a volunteer, then they would advance into what is known as a Citizens Fire Corps, similar to an auxiliary, Kneip explained.
"What they will do in the future is teach fire safety education, as a fire educator," she said. "We're always needing help with education programs, and we're always needing help with fundraising programs, as well with general duties around the firehouses."
Kneip said she is hopeful the new program will eventually develop into a Firefighter Rehab Group as a result of the Fire Citizens Academy.
Volunteers with that group go to the scene of structure fires and vehicle crashes, etc., Kneip said.
"That part of the program would actually call for volunteers to set up rehab areas for firefighters," Kneip said. "When firefighters come out of a working fire, the volunteers would help them change out their air packs, and provide them with water or cups of Gatorade, or a snack — things of that nature."
During structure fires, it's not uncommon for firefighters to go back inside a burning house or business.
"There's the need for assistance at all times at the scenes of working fires," Kneip said.
The main focus of volunteers at that time would be to assist firefighters in any way possible.
When it comes to a program such as Fire Citizens Academy, Kneip said she knew of none in existence in Georgia with a population the size of Baldwin County.
'"The counties that offer this kind of a program now in the state are much larger than Baldwin County," Kneip said.
Programs exist in Atlanta, as well as Cherokee and Gwinnett counties.
"I kinda modeled our Fire Citizens Academy program after seeing the one in Cherokee County, she said. "They have a real nice one within Cherokee County Fire Rescue," Kneip said.
The veteran captain of the fire department, whose specialty is within the circles of the fire marshal's office, said she had been thinking about starting a Fire Citizens Academy since she attended a conference for educators and inspectors.
Kneip said the number of volunteers, like fire departments throughout the country, is dwindling and she wanted to come up with a way to attract and retain critical personnel.
"We're not the only ones experiencing such shortages," Kneip said. "This is going on all over the country."
In smaller areas, the problem is critical because many areas are so rural and many smaller counties don't have full-time firefighters. They have to rely heavily on community volunteers.
Kneip said she saw an opportunity to attract others in the community to assist the fire department without having to become a certified firefighter.
"I think this program will work well here in Baldwin County," Kneip said. "I'm eager to get started with it and see where it goes."
Men and women interested in working with Baldwin County Fire Rescue as volunteers in the new Fire Citizens Academy are asked to call Kneip at 478-445-4780 or email her at skneip@baldwincofirerescue.com.
___
(c)2021 The Union-Recorder (Milledgeville, Ga.)
McClatchy-Tribune News Service