What's the strangest thing that's ever been dropped off at your fire station?
From animals to hand grenades, the items dropped off at the doorstep of a firehouse continue to surprise and confuse us
---
We've all seen it in the movies before and maybe even real life.
You're leaving the firehouse, step outside, look down and there's a baby left at the doorstep. It doesn't happen all the time, but when it does it stops you in your tracks. And it's not just babies that are left at the doorstep of a firehouse.
We asked our fans on Facebook to tell us about the strangest things that have been dropped off at their fire station. Here are some of their responses.
Has your department had something strange dropped off at your door? Let us know in the comment section below.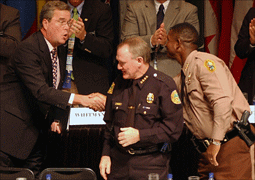 "A bag full of stolen rifles and shotguns." — Coleman Wilson

"A homeless family, a child, mother and father, knocked on my husband's firehouse door asking for food and shelter." — Dawn Shroyer

"Four bags of pool sand … we don't have a pool!" — Charleen Tittle Foott

"It wasn't at the station, but the guys got called out because someone found a nose on the beach. Come to find out later it was a prosthetic nose from my moulage kit. The public freaked, the guys just laughed." — Leesa Berke

"Old mortar shell that was live." — Melinda Jordan

"Dynamite that was weeping nitro." — Mike Murphy

"A coral snake in a two-liter bottle." — Mike York

"A bottle of Mercury! Small bottle, but it weighed about 5 pounds." — David Morgan

"A pug with its kennel and carrier." — Jonah Sonnier